One Month In
Tuesday, October 6, 2020
Hi families,
We continue to be so proud of the work our staff and students are doing to learn together each day.  Everyone is spending a lot of time outside and for the most part, the weather has been very cooperative.  At the beginning of the year, we knew that if we worked hard to follow the health and safety guidelines provided, we could establish a safe learning space, and hopefully find ways to reduce the restrictions as time went on.
To this end, I'm excited to share some updates about how we will do things in the next 6 weeks:
Students will be able to use lockers, starting on October 9th.  We will have procedures in place to make sure that students take turns accessing their lockers so there is not congestion in the hallways.
Teachers will be able to plan field trips that include a charter bus, as long as the field trip is to an outdoor location.
Student photos will take place on November 3rd.
Parents will be able to be in the school when there is a compelling reason for the visit.  Any visits must be pre-arranged and guests MUST report to the office when they arrive.
Students in the early years may, at times, play with kids in their class (their cohort) outside of their small pods.  Originally, we had been working hard to keep materials and seating contained to a small group of 5 or 6 kids within our primary classes. After consultation with our Early Learning Team and Saskatchewan Health, it has been determined that some flexibility within this is important in order to support authentic learning experiences for young students.  Of course, teachers are still requiring frequent hand washing, helping kids to maintain social distance whenever possible and encouraging masks when social distance can't be maintained.
Our driver trainer (Todd) may conduct testing (eye test and written test) at the school.
Some extra-curricular activities will be permitted, as long as students can remain in their cohorts.  At this time, students will not be able to travel to other schools for extra-curricular activities.  We will be meeting as a staff to determine what we may be able to offer.  Our focus will be to continue to offer safe learning opportunities for all. Any extra-curricular opportunities that are offered would depend on the ability of a teacher to provide additional, voluntary time and resources to make it happen.  After teachers meet on Thursday after school, I will provide an update on what may be available for students.
We have an important staffing update to share with you – after 34 years of service to Aberdeen School, Grace Wudrick has chosen to retire from her position as an EA and will be running as a Board Trustee in the upcoming local election.  If you know Grace, you know that she is a huge part of what has made Aberdeen Composite School a great place and her many contributions cannot be understated. We will miss her dearly.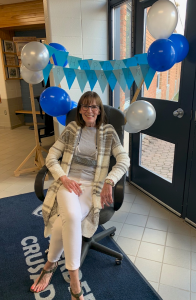 There was an early version of our PSSD calendar that indicated that Friday, October 9th was not a school day.  This has since changed (due to the provincial election juggling some things around) and Friday, October 9th is a regular school day.
Thank you for your continued support this year.  At our staff meeting tomorrow, we will be launching back into our work on family engagement and how it impacts learning.  We look forward to working together with you on this.   This quote is from an article we will be reading:
In shifting the focus from getting more parents into the school to working collaboratively with them to support their children's learning and well-being, it is more important than ever to become familiar with one another's "worlds":
How can we effectively open doors to each other's world so that we foster close and common understanding?  What role might both students and parents play?
How might we interact and co-learn with families?  How can we build from a position of asset and acceptance?
In what ways can we build on the strengths, interests and talents of students and their families?
(http://www.edu.gov.on.ca/eng/literacynumeracy/inspire/research/CBS_parentEngage.pdf)
I would love to hear any feedback, thoughts or questions that arise for you if you have a minute to look through it.
Wishing everyone a wonderful October and especially relaxing upcoming long weekend.  Take care.
Mrs. Orth