It is imperative that parents monitor children closely for any signs of symptoms of illness.  If any signs of illness (please consult Saskatchewan Health website for full list of symptoms) are present, children should NOT BE SENT TO SCHOOL.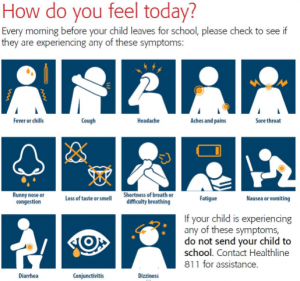 If a child presents at school with any of the symptoms above or those listed by SK Health here, the following steps will be taken:
The child will go with the Principal or Vice-Principal to an isolated room. 

Parents will be notified and required to pick child up immediately. Parents, please consider setting up support systems with other families so that should the need arise, there is someone to pick up a sick child. 

Our processes are guided by

Administrative Procedure 432

which include a flow-chart that describes what happens when a student presents with symptoms consistent with COVID-19.