Reconciliation isn't just simply teaching about residential schools. Don't get me wrong- educating and learning about residential schools is important work, but when it comes to authentic reconciliation, we must broaden and deepen our learning about both historic and contemporary Canadian Indigenous events and issues.
This week is Secret Path Week (October 17-22), and there are loads of ways you and your students can participate and learn, or as Gord Downie stated, "Do something", to help effect change to better the state of Indigenous-settler relations. The events are not exclusively about Chanie Wenjack, The Legacy Foundation, or residential schools- this year's organized activities include current events and spotlights contemporary Indigenous change agents. Tasha Hubbard's "nipawistamasowin: We Will Stand Up" documentary investigates systemic racism in Canada's justice system after Gerald Stanley's acquittal of Colton Boushie's death. You can find this documentary on the NFB's website, https://www.nfb.ca/film/nipawistamasowin-we-will-stand-up/, with a free learning guide (Note: the learning guide is FULL of lessons about historical events, current events, and activist movements, just to name a few). View it on your own, or with your class (recommended by Hubbard for grades 7-12) to further your understanding of what issues Canadian Indigenous peoples are still facing today.
Have you heard about the United Nations Declaration on the Rights of Indigenous Peoples?
On September 13, 2007, the UN General Assembly adopted the UN Declaration on the Rights of Indigenous Peoples (UNDRIP). Four states initially opposed UNDRIP- and yes, Canada was one of those four (shame on us!). Thankfully, all four (Canada, New Zealand, Australia, and USA) have since reversed their position and now endorse UNDRIP… or at least as lip service at this point. UNDRIP is an excellent framework for reconciliation, BUT, it technically cannot be legally enforced unless it is adopted into legislation. Enter Bill C-262, happily on its way to be enacted, until it was stalled in early 2019. You can view the Declaration, and a host of issues Canada is experiencing trying to implement Bill C-262, on this website: https://www.declarationcoalition.com/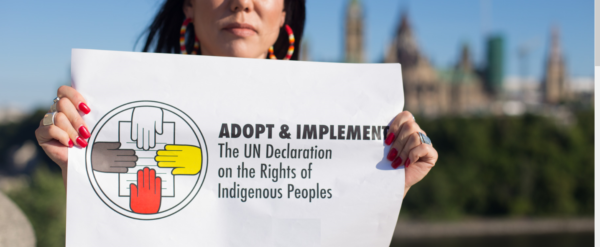 Where am I going with this?
I will get to my point (promise!), but first, a reader's digest version of Indigenous rights and Treaty rights. These rights are not one and the same, though there are some commonalities. Both rights are affirmed in Section 35 of the 1982 Constitution Act. Indigenous rights pertain to all three Indigenous groups (First Nations, Metis, & Inuit) and include:
Indigenous title (ownership rights to land)
Rights to occupy and use land and resources (includes hunting and fishing rights)
Self-government rights
Cultural and social rights
Treaty rights vary and are defined at the specific time and circumstances of when a treaty was signed. Each treaty specifies rights, benefits, and obligations of the signatories. (If you want to learn more, I found most of this info on: https://www.rcaanc-cirnac.gc.ca/eng/1100100028574/1529354437231)
How it all connects: teaching current events as reconciliACTION
Now that we have built on our schema of UNDRIP, Canadian Constitutional Indigenous rights, and Treaty rights, consider what is happening in Nova Scotia. If you have no idea what I'm talking about, stop right now and read these two news articles to get yourself acquainted: https://globalnews.ca/news/7403001/nova-scotia-lobster-explained/ and https://www.aljazeera.com/news/2020/10/17/indigenous-leader-demands-protection-after-lobster-pound-blaze.
Sadly, this is not the first time the Mi'kmaq community has been under attack for fishing rights. Back in 2001, the same type of conflict flared up between Mi'kmaq and non-Indigenous fisheries and is now known as the Burnt Church Crisis. The Supreme Court sided with the Mi'kmaq, as hunting and fishing rights are protected in the Constitution and were negotiated as part of their treaty with the federal government. The conflict seemed like it was resolved…until now. This situation alone is glaring proof that our work with reconciliation is not nearly done, and that we cannot allot teaching about reconciliation solely on national days of recognition.
Now, I'll leave you with some questions to ponder:
Knowing what you know now, how would you discuss the NS conflict with your students? Co-workers? Family and friends?
How does teaching current events such as this one support reconciliACTION?
I am learning alongside with you. If you have any questions, comments, tips for making my blog look better (haha!), or simply want to discuss what you've read, please comment below, or send an email my way: amanda.nelson@spiritsd.ca
Maarsii!