Well this feels more like our Saskatchewan winters!  Hopefully any traveling you had to do this weekend was hassle free, I know we stayed close to home.
It's great to be back in the swing of things at school, assessments bookend the entire school as grade 1 – 3 prepare for their annual reading assessments and grade 10 – 12 rev up for final exams at the end of the month.  These assessments are very labor intensive and time consuming, and hopefully a lot of information about how your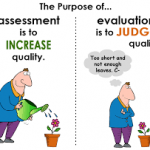 students learn can be gathered from their use.  How do you use the information you get from formal evaluations such as these?  How does the data guide your teaching?  How do you use this summative assessment coupled with your formative assessment to paint the "full picture" of who your students are as learners?
Learning link one talks about just that and speaks about balancing these assessments to help move learning forward.
You may have noticed some Cory was busy building some new tables last week, these found there way to grades K – 4 and it is going to be exciting to see how these are put to use as we continue to shift to student centered classrooms.  Hopefully our new furniture arrives soon and they will further add to the comfortable environments you are
building.  Of course environment is important, but as we all know, the heart of the classroom library is the books contained within.  Learning link two talks about creating your classroom library.  How have you set yours up?  What are some struggles you have had?  What are some celebrations you'd be willing to share in the comment section below?
Here's what is coming up this week:
Monday:
All sorts of basketball today

division II start at 3:00
jr. boys at 4:00
sr. boys at 5:30
Tuesday:
Ron & Bruce gone to ALT all day
More basketball

div II at 3:00
jr. girls yellow & jr. boys travel to Leask
jr. girls black host Dalmeny
Wednesday:
Basketball

jr. boys at 3:00
sr. boys at 4:30

Curling (gr. 4 – 9)
Thursday:
Sheppard's Villa Lunch ($2.00/each)
SRC Spirit Day ~ Career Day
Bruce and Jamie gone to PD (Keith Walker ~ Supporting Adult Learning)
Basketball

jr. girls at 3:00
sr. girls at 4:30
Friday:
Basketball

sr. girls off to Birch Hills for a two day tournament
jr. girls at 3:00
As always, create a great week!
240 total views, 1 views today