I hope everyone has had a relaxing long weekend and has had the opportunity to reflect on things they are thankful for. My brother flew in from Vancouver unannounced on Friday, he likes to do that from time to time. It was great to see him, and I was thankful that we all were together this weekend laughing, reminiscing, and rooting on the Jays (what a game!). As it happens every year, my eyes were bigger than my plate, but when it comes to great food I always have trouble stopping at one serving.
Alumni Weekend has come and gone, and it was great to see the gym rocking with volleyball players young and old. Dave Hinz and his crew do a great job of keeping these former athletes connected with Waldheim School, it made me wonder what other opportunities are out there for us to take advantage of. As you all know, the school is the heart of a community and it was awesome to see ours beating proudly this weekend.
On Friday, Chris, Brenda, Steve, and myself sat down for an hour discussing where we see our adult learning plan heading for the year. I am very excited to be a part of the great work that has been going on at Waldheim School over the past few years and am very grateful to all of you who took the time to complete the short survey I sent out on Friday. I know Chris handed out your new books, hopefully you had a chance to peruse yours over the weekend….I know I didn't as I forgot it on my desk…oops! I believe we will have a brief discussion  about our book clubs this Thursday at our staff meeting.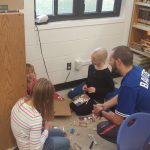 One of our discussions on Friday centered on peer observations, or classroom visits. Chris, Brenda, and Steve explained in greater detail how the visits were coordinated and how you were able to spend some time debriefing. As we talked about this process I asked why this process was important to Waldheim School. The three of them talked about the shared benefits of this process, how the observer can get ideas for their classroom, while the teacher being observed can get feedback from their colleague. In the first learning link Katrina Schwartz discusses a 5th grade math class where the teacher is being observed by a group of teachers and the ensuing conversations that happen as a result of this. I hope you can see some connections in Schwartz's article and what is happening at Waldheim School.
In the second learning link Isaac Lidsky challenges us to think about the realities we create for ourselves. As I was watching this I started thinking about the assumptions I make and way I sometimes let fear stand in my way. The one example I will share is particularly timely. Tuesday afternoon all of the principals in the division are meeting in Warman for our monthly ALT meeting. What makes this meeting different is that it is just the principals, not the vice-principals. Chris and I discussed our roles this year and both felt it was important for both of us to be there representing our respective schools. This is where the fear comes in for me. As I go into this meeting it is the first time I go in as a principal, and that scares me. What if I don't say the right thing? What if I ask a stupid question? As you watch the video, ask yourself what scares you, and why does it? I'd love to hear any comments.
Here is what lies ahead this week:
Tuesday
Cross Country meet @ Delisle ~ Leah away
Fire drill (11:00)
Assembly ~ following fire drill
Bruce & Chris gone all afternoon ~ Dwayne acting admin
Wednesday
Thursday
Staff meeting ~ 8:00 am
Ready for Work presentation ~ 9:00 – 10:30 Grade 12 only
Friday
Chris away ~ all day
Bruce & Dwayne gone to soccer ~ all day ~ Blaine acting admin
Saturday
Jr. boys volleyball home tournament
241 total views, 1 views today