Nov. 28 – Dec. 2
Posted On November 27, 2016
Grey Cup Sunday is always a great reminder of what it means to be a Canadian, every year at this time I think back to the days when we used to break out the TV tables and mom would make me hot dogs, potato chips, and pop for supper. She knew how bad of a meal that was, but she also knew how much it made watching the game even more fun for me. Even though I'm having trouble rooting for either team I'll likely still watch the game…or at least parts of it, but alas, no hot dogs and chips this year.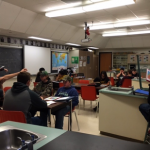 It was a great week of learning last week, with some teacher observations by our Superintendent and our book club work together, there were lots of great conversations around the building. While Jon was here Shantel, Tom, Brittney, Danielle, and Krysten all delivered unique, engaging lessons that challenged the students to think outside the box in both individual tasks and group endeavors. From learning about the Mars Rover, to creating clinometers, to exploring poetry, to investigating literature through the workshop model, Jon was treated to some excellent examples of the great work going on at Waldheim School.
What are some things you are trying? Remember to have a look at the bulliten board in the staff room to see what's going on in some other rooms. You may want to see how Sharlene is using FreshGrade to communicate with parents and share evidence online. Check in with Leah and Blaine to see how genius hour is progressing. What about popping into Trace's room to discuss how he integrated some art, science, phys ed and health into one amazing project….the results look incredible! These are just a few examples of the awesome things happening around the school. Now, if you are thinking you want to try something new that may hook the kids, give this week's learning link a read. It's all about the 4th annual Hour of Code. Coding is a skill that anyone can learn and it is a great way to teach the kids about the importance of accuracy.
Here's what lies ahead for the last week of November:
Monday:
Tuesday:
grade 4/5 skating
Chris away
Wednesday:
Thursday:
pizza for sale at the booth
Friday:
grade 9 & 10 skating
Chris away (am only)
As always, create a great week!
288 total views, 1 views today