Feb. 6th – 10th
Posted On February 5, 2017
Are you planning on watching the big game, or if you are reading this on Monday morning,  did you watch the big game? I'm not a huge NFL fan, but there has been a lot of talk about the game, the commercials, and the half-time show that has me intrigued enough to tune in. Such is the power of marketing. It caused me to think about how we market ourselves. What are we saying that has parents, students, and other teachers thinking, "hmm, I need to go visit that classroom, that sounds interesting"? I think about the things that are happening in our school that need a little more push from the marketing department, things like Sharlene's heritage fair, Krysten's investigations in Forensic Science, Steve's karaoke challenge in his drama class, Glen's wood turning demonstrations, Trace's archery lessons in phys ed, and the list could go on and on. If I missed something you've done, I apologize, my number one goal for semester two is to be much more visible in classrooms. Something you may want to think about is, how can you create lessons that kids are going to be talking about after they leave the class?
This weekend was a busy one around our house as Krista took Eva and a group of Sparks for an overnight trip to the Science Center in Regina. Eva came back exhausted, but full of excitement. She could hardly get the words out when she was describing everything she had seen and done while on the trip. While they were gone Bobby decided to spend his birthday money on the latest craze going on in his school, Stikbots. These are simple little plastic robots that allow the user to manipulate them in several ways, however the coolest feature is the package they come in, it is a green screen! After you buy the Stikbot you download the app onto your mobile device and start creating stop motion movies. The built in backgrounds allow the users to put the Stikbots in a variety of settings for the movie. I was amazed at how fast Bobby caught on to filming with a green screen (there is also a blue screen) and how curious he was about how the app worked. It was a great example of learning for the sake of learning, it was also another time for me to play with something Bobby bought.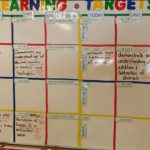 In the end, all of this investigation and hands on learning is great, but it is so critical we take the time to communicate what we are doing with our parents. One of the things I've heard since I've been at Waldheim is that we do not always communicate as well as we could. Now, I am a parent of a grade 4 boy who has been guilty of stuffing a note or newsletter into the bottom of his backpack or, worse yet, into the back of his desk, so I understand that even our best intentions can come up short. How do you communicate with your parents? Do you use a monthly or weekly newsletter? If you do, I'd love to receive a copy so I do not miss out on any exciting activities. Do you communicate via e-mail? Do you use a blog or a class webpage? Would you like to create one? If so, I'd love to sit down with you and help you, it's relatively painless. This morning I created a mock blog that could be used to keep parents informed of what is going on in a class. Of course the key to any effective communication, in my opinion, are the 3 C's: consistency, clarity, conciseness. People will abandon a blog if it is not updated regularly and they will not want to read a 5000 word essay that is difficult to follow. So, keeping my advice in mind, I'll wrap this week's message up.
Here's what lies ahead this week:
Monday:
staff meeting after school in the Home Ec lab
Tuesday:
Bruce & David are both gone for the morning to our monthly ALT meeting, we will be back for the afternoon
There is an SCC meeting at 5:30 pm
Wednesday:
Thursday:
Friday:
We are hosting Sandra Herbst along with  some in-school and senior administrators and will be doing a couple of classroom visits. The focus of this is on helping administrators build their feedback skills so our daily walk abouts are more effective.
Create a great week!
262 total views, 1 views today