I'm most proud of the blessings that God has bestowed upon me, in my life. He's given me the vision to truly see that you can fall down, but you can still get back up. Hopefully I'll learn from my mistakes and have the opportunity to strengthen and improve the next thing I do.
Martin Lawrence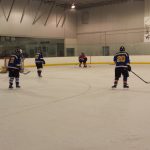 Last week was one that was filled with all sorts of learning opportunities for me, as I walked along side all of you during another week of learning at Waldheim School. I was filled with pride when I witnessed the hard work of the student organizing committee under the guidance of Trace come together for our annual hockey tournament. While the hockey wasn't NHL caliber, heck I was allowed on the ice so that says it all, the feeling in and around the rink reminded me of a very special time in my life. About 35 years ago my mother's side of the family all gathered in Waskesiu for a family reunion and while we were there we organized a game of softball. My mom comes from a large family, she had 6 sisters and one brother, and with many of my cousins there, we had enough for two teams. I can still remember how much fun it was to be playing with my family, just enjoying the weather and enjoying each others company. I sensed that feeling on Thursday at the rink. Not only were there classmates cheering on the students, there were parents, grandparents, former teachers, current teachers, and community members. I felt so blessed to be a part of that day. Thank you to Trace and the crew for such a great event.
There were other learning opportunities last week, times when the feelings may not have been as exciting as they were at the rink. These moments will happen when people work together, and it is these moments when some of our greatest growth can occur. I really like the quote from Martin Lawrence that I included above, however another quote that has really stuck with me since I heard it is, trees grow in the valleys, not on the mountain tops. It is from the high peaks that we can see the growth that has occurred in the valleys. That quote has been paraphrased, and I borrowed it from a very smart friend of mine, I'm sure he won't mind. As we move into our parent/teacher conferences this week, I invite you to stand upon the mountain tops and look down into the valleys below. What have you learned about each student in your care? How will you celebrate the great things with their parent(s)? How will you present future learning opportunities in a way that gives people hope and gets them excited to come back to school? In this week's learning link I've included an article from Edutopia that contains resources and ideas for parent/teacher conferences. Have a look and see if there are some ideas that can have a positive impact on your conferences this week. Here's a little inspiration for you…hopefully no interviews like this 🙂
Here's what lies ahead this week:
Monday:
Tuesday:
Wednesday:
P/T conferences (supper provided)
Thursday:
David gone all day (VTRA Level I Training)
P/T conferences (supper provided)
Friday:
Teacher prep day
Bruce gone all day (Prince Albert ~ Conference)
David gone all day (VTRA Level I Training)
As always, create a great week!
269 total views, 1 views today