For the past few years my oldest, Bobby, has enjoyed playing Minecraft and it is quite common for him to come to me with his latest creation. This weekend he surprised his sister, Eva, with one that was made just for her, a Minecraft pet store. Bobby was so excited to walk me through this, from the big sign he had made, to the double doors, to the different animals, to the lighting, everything was well thought out. When Eva returned from her play date with her friend from down the street, Bobby could not wait to share the pet store with her. She was so excited, and it was nice to hear things like, "thanks Bobby!" and, "that's so cool!", as opposed to some of the things siblings say to each other. This is one of the things I like about Minecraft, it allows Bobby to be creative in meaningful ways, he knew Eva would love a pet store based on what he knows about her.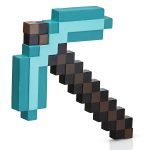 Don't get me wrong, Bobby isn't always this altruistic, most of his creations reflect his interests, and it is very interesting to look back at his early worlds (as they are called in Minecraft) and compare them to where he is now. We were laughing yesterday at the very first time he logged on to Minecraft, all of his hockey buddies at the time were into it and he felt he needed to see what all the fuss was about. He struggled away, and we chuckled that his first great accomplishment was digging a hole. That's it, a hole. Fast forward to today and he's built a myriad of worlds, like Cruise Ship World, Roller Coaster World, Farm World, Hotel World, Mansion World, and Hill Ride World. In between digging his first hole and creating his interactive pet store, most of his work has been saved and his growth can be seen. Without even thinking about it, he has created a portfolio of his work, and could speak to each world if asked about it.
Do we do this with our learners at school?
On Friday, Brenda and Ellen were discussing effective assessments for her science classes, and they were looking for ways to go beyond traditional, teacher lead assessments. Ellen was asking questions about how to get the students owning more of their own learning, and being able to talk about it in a way that adds to the overall picture of a student's understanding. This discussion and Bobby's Minecraft work make me think about an article I read the other day about creating a more complete picture of our students as learners. In the article, the author talks about how we are using formative and summative assessment to develop a better understanding of our students. When you think about how you know your students as learners, what are some ways you are going beyond using only summative assessments to inform students and parents? What are some ways you are using observations and conversations to support what you are seeing in more formal assessments? When I think about assessment, I often reflect on what is going on in Glen's workshop, and think about how authentic his assessments are. If you ever have a chance on one of your prep periods, and Glen is okay with it, I'd invite you to pop into the lab to watch him work side by side with his students.
The end of semester one is always a natural time to stop and reflect on how we are doing with our students. You had a vision in August, looking back, what do you think? Did you meet your goals? How do you know? Will your teaching in semester two be any different than semester one? Why?
Here's what lies ahead this week:
Monday:
fire panel  inspections (there may be the odd alarm going off, we'll share more details in the morning announcements)
classroom visits: what does collaboration look like in your room?
Tuesday:
Bruce away at an ILO in North Battleford
Sharlene away at division ILO, enjoy!
Wednesday:
Sharlene away at division ILO, enjoy!
classroom visits: what does collaboration look like in your room?
Thursday:
10-12 Final Exams begin (please remind students to keep the noise in the sr. wing to a minimum)
classroom visits: what does collaboration look like in your room?
Friday:
Final exams day 2
classroom visits: what does collaboration look like in your room?
345 total views, 1 views today