They May Still Need Training Wheels. Apr. 23-27
Posted On April 22, 2018
Well, I just counted them again, and I have all 4 kids, none of them blew away in this wicked wind! It was fun to watch them get back on their bikes and wiggle carts in front of the house, they had a blast and love being outside. While they were playing it gave me a chance to do a bit of tidying up of the yard, but there is still a lot to do. Hopefully you found a way to enjoy the better weather. Two really cool things to share from the weekend. First, my 7-year old, Eva, had a friend over on Saturday, and Eva was making muffins. It was quite a mess, and to be honest, they seemed more like scones than muffins, but they went good with a coffee. What was cool was listening to her explaining to her friend how to measure out things like flour and sugar, and how only she could put the muffins in the oven. I didn't record my wife teaching Eva, but I'm sure it sounded very similar. #side-by-side! The second cool thing was watching my 11-year old, Bobby, help my 4-year old, Charlie with his bike. Last summer, Charlie was still in the age of training wheels, and after watching his twin sister rip up the sidewalk on two wheels, he's determined to get his two-wheeler going. Bobby was trying to give him tips, trying to help by holding his seat, and trying to help by cheering him on. Alas, it didn't work, and Charlie found comfort on his other bike (a tricycle), which allowed him to be a part of the game they were playing.
This makes me think of the learning that has been going on in our school. Sometimes kids are ready, and can move to that independent stage where they can teach others, like Eva and her so-called muffins. Others are not ready, no matter how much we cheer them on and help balance them, they just need a little more time with their training wheels. This past week there were so many examples of side-by-side learning going on in and out of Waldheim School. The play, Annie, was an incredible success, and Joanne could attest to the side-by-side learning that was going on during rehearsals leading up to the performance. As I watched and enjoyed the acting, I was struck by how effective the music and lighting were.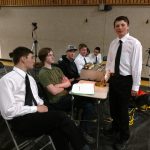 Behind the scenes was an interesting crew helping bring the magic to life, there were veterans from grade 12, who had been running sound and music for years teaching the next generation of kids in grade 8, 9, and 10. Lots of #side-by-side! There were also many examples on staff last week of collaborative learning. Brenda and Steve were hard at work helping teachers, the EAs worked feverishly on their presentation during their EA meeting, and David and Brittney were able to spend a whole afternoon planning together on Friday. All of this in the name of what's best for our students. Hats off to all of you and your efforts! All this side-by-side reminded me of a blog post from my friend, George (@gcouros), who wrote about a conversation he had with a group of leaders. He talked about the impact that performance has on people. If you have time, have a look at the post.
Here's what lies ahead on this busy week:
Monday:
Staff meeting (Leah, Shantel, Brenda presenting)
Bruce & Jesse presenting at PSSD AGM at Division Office (5:30 pm)
Tuesday:
Classroom visits: What would you like us to notice?
Wednesday:
Lockdown (am ~ details to be sent out prior)
Assembly (1:00 ~ note: part of assembly will include cheque presentation from Affinity Credit Union)
Thursday:
Hold and Secure (am ~ details to be sent out prior)
Classroom visits: What would you like us to notice?
Friday:
Classroom visits: What would you like us to notice?
As always, create a great week!
309 total views, 1 views today