How's Business? April 30 – May 4
Posted On April 29, 2018
What a gorgeous day Saturday was, and while today isn't quite as warm, we still had a chance to get out in the back yard with the dog. The kids enjoyed their swing set, and played made up games, while I tidied up the mess from the long winter. Speaking of Saturday, we had a lot of fun visiting my mom while Krista slept after her night shift at the hospital. Eva (my 7 year old) got a craft for her birthday, a white tea set with paint and brushes, and has been dying to do this. So, we all sat around my mom's table, painting away, making quite a mess, but everyone was proud of their saucers, cups, pots, etc. It was a fun way to spend some time with mom.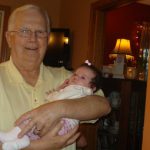 Something we talked about as we were visiting was my dad's business that he ran through the 1980's and part of the 90's. He had a business where he sold bulk Esso petroleum products and fertilizer to farmers around the Watrous area. My first job as a high school student was to go to the business after school, and usually I needed to pull weeds, cut grass, clean oil drums, or organize stock. As I got older, I became more involved in the fuel and fertilizer delivery, and eventually in the financial end of the business. Reflecting now on how dad approached his business, he was very particular about a few things. The buildings, grounds, and stock needed to look good. Things were clean, and organized, and to dad, this was a sign of pride in his work. The way all of his employees treated customers was extremely important, he knew they were the key to his success as their was always competition down the road. Dad also believed it was crucial to take care of his employees, he was very responsive to their needs, he cared about them, and their families.
I've been thinking about the parallels between an effective business, and an effective school for a while. Of course there are differences, as I've never viewed students as customers, nor staff as employees, but there are many similarities. I've seen how hard everyone works to make their rooms inviting for students, and this is mirrored by the amazing work Jamie and her crew do on a daily basis to keep our school looking clean and welcoming. I think about how we try to reach, each and every student, just like how dad tried his best with every customer, from our largest, regular accounts, to our one time visitors. I also think about how we support each other. Just like any great staff, we learn together, we struggle together, and we celebrate together.
As I think about the staff presentations we've been having this year, I've been struck by the common thread through all of them: students first! If we were all business owners, presenting to each other, I know the common theme would be customers first. As you think about the presentations, what have you heard? How has your "business" improved this year because we have been learning together? How can we measure this when after all, we don't have profits or losses in the monetary sense, like my dad did. Will you do a customer satisfaction survey? If so, what would you ask? When and how often would you do one? How would you respond to your customers' responses? I'd love to hear your thoughts.
As I look at my calendar, I see I only have one scheduled event, which takes place Tuesday after school in Warman, so the week will be filled with classroom visits, side-by-side learning, chats and Tweets, and lots of laughs!
As always, create a great week!
295 total views, 1 views today