It was a perfect night for star gazing. Not a cloud in the sky, the fall air was crisp and cool, and the moon shone brightly over the city. Bobby's teacher,  @blaine_gaudet had arranged for the grade 6 class to meet at the observatory at the University of Saskatchewan on Friday night as they continue to study the solar system in their science course. While they were there, the students had the opportunity to view many of the displays and artifacts in the observatory. They were able to speak with two experts (U of S astronomy students) who would answer their questions and extend the kids thinking with questions about space. It was a fun night, and Bobby wanted to share this experience with his aunt Susan. My sister, who teaches in Saskatoon, has always been close with Bobby, so it was no surprise when she agreed to come along on the field trip.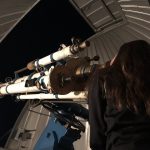 Upon our arrival, we were't sure what to expect. We didn't know how many other students would be joining the group, nor did we know exactly what we'd be looking at through the telescope. What we did know, however, was that we'd have an opportunity to learn through looking, listening, and asking questions. We were curious about things. Bobby asked, "I wonder if that's a planet or a star beside the moon?" My sister wondered where the space station was, and if it were observable that night. I wondered if Starbucks would be open late enough to get a cappuccino after. I actually wondered if we'd be able to catch a glimpse of Saturn and her beautiful rings. We enjoyed our time, learning many cool things. For instance, it never dawned on me that the telescope through which we were looking was constantly moving, just ever so slightly. This movement is designed to keep time with the movement of the Earth, thus maintaining a focus on the target. We did get to look at Mars and the moon, but alas, not at Saturn. It was an amazing time, and one I'm sure we'll do again in the future. What struck me was the conversations that occurred on the ride home. We were actually filled with more questions than when we first set out for the evening. We looked at the night sky in a different way, and noticed things that we may not have prior to this.
It was a night of real learning.
I then started thinking about the learning that is happening on a daily basis in our school. Are students walking in with a rough idea of where they are going for each class? How can this mindset benefit them? Are students able to build on prior learning, or is everything 'new' each class? I wonder about where you 'point the telescope' in your room? We looked at 3 things, just 3, and it was plenty for a 90 minute session. How often are you moving your 'telescope'? We were all able to look and learn, the facilitator did not say, "students you only get to look at the moon, parents, you get to look at the Pleiades". What are the ways you are inviting #allstudents to look at and learn about 'the Pleiades' in your classes?
It was cool to see a kid (anyone now in their early 20's will be known as a 'kid' to me) from the U of S, with no formal teacher training bringing MPSC to life. I was reminded of the simple ingredients that were brought together to create an authentic, engaging learning experience for all 30-plus people who were there that night. No desks. No notes. No SmartBoard. No worksheets. There was plenty of choice, a lot of conversation, tons of side-by-side learning, and a lot of freedom for the kids and parents to learn in many different ways.
What a great night!
Here's what's on the horizon this week:
Monday:
Bus driver meeting & bus evacuation drill 9:00 am
9 – 12 Staff Meeting
Classroom visits: what are you wondering about?
Tuesday:
Classroom visits: what are you wondering about?
Wednesday:
Dental screening (gr. 1 & 7)
Classroom visits: what are you wondering about?
Thursday:
Picture retakes
Classroom visits: what are you wondering about?
Friday:
Classroom visits: what are you wondering about?
As always, create a great week!
610 total views, 1 views today