The school had been buzzing all week as students asked each other if they were going to show up Friday night. It was time for a school dance, and this was the Winter Formal. The SRC had been feverishly planning the event for weeks, ensuring they had lined up enough chaperones, bought the right decorations, found the best lighting, prepared delicious snacks, and of course, created a killer soundtrack for the night.  They spent Friday afternoon transforming the gym into a space many of us hardly recognized, complete with a winter wonderland themed photo booth, where kids could get a Polaroid with their friends or favorite principal (spoiler, I wasn't invited for any pictures!).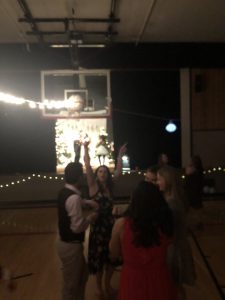 The group planning the event had no idea how the students would respond to the theme of the dance. Would they show up? Would the kids dress up? Would those who showed up have fun? As the clock struck 7:00 pm they started getting their answers. A steady stream of students in amazing outfits began making their way through the doors. Girls in beautiful dresses, boys in shirts and ties, all of them looking their best. This dance followed the usual patterns of a #WaldheimSchool dance. The kids assembled in groups with their friends, some of them moving to the music, but most of them cautiously waiting to see just how safe the room was. The speakers continued thumping out great songs, many of which I could not identify, as more students began to join in the dancing fun. Eventually, the floor was full of students moving in unison, somehow knowing when to throw their arms in the air or when to shout out specific lyrics. The committee had their answers. The dance was a tremendous success as a large percentage of the students remained until the last song, at which time they filed out, red-faced and exhausted, but all smiling and laughing.
What did the students learn? They spent all afternoon creating an event for their peers, and during the process, I could see MPSC in action. I saw the side-by-side learning that was going on as kids of different ages were bringing to life a vision they had created together. There was some teacher involvement, initially, but for the most part, the teachers were merely there to help them access supplies. This was learning that was created by the students to develop an event that was for the students. They will have discussions with their friends about the dance seeking feedback as a form of assessment to inform themselves of next steps for the next dance. They will be involved in the assessment process, just not using words and phrases in the same way their teachers and EAs do.
What is exciting to me is the fact that learning events like this are not an unusual occurrence in our school. I think about the work students put into planning events like dances, hockey tournaments, SmashBros. tournaments, Tasty Cause fundraisers, the yearbook, Mug 'n Muffin mornings, Remembrance Day ceremonies, and pot luck meals. I also see this with our elementary students as they create games at recess, make fun videos using iMovie, and plan events like birthday parties or teacher farewell parties. All of these events will be informally assessed in a way similar to how the students assessed the effectiveness of the dance (they are conferring!). Students are really good at this, and it causes me to wonder, "why is this type of assessment so tricky to capture and measure in class?" (maybe it's not, that's a topic for another blog).
I wonder how the students would have responded if the school dance was actually an assignment that would have been used to calculate marks. Would they have been continuously checking with the teacher to see if they were 'doing it right'? Had they been 'marked' on their attire would they have dressed differently? Would the conga line have looked different if they knew they were receiving a grade for their part in it? I wonder if the music would have sounded different had a teacher created a rubric to help 'guide' them with their choices? How would that have impacted the event?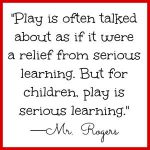 I realize that your class can't be a dance every day, but can the learning opportunities reflect the processes described above? Could students learn about the elements of poetry in a different way? Is there a way to invite students to own SOH CAH TOA in their own way? Are there opportunities for students to learn the fundamentals of sewing and cooking in a way that reflects their style and tastes? Are there ways to learn about the characteristics of strong, stable structures while understanding that learning and play go hand in hand? Are we letting the difficulties of measuring and reporting such learning stand in the way of events like this in the classroom? How are you already overcoming these difficulties in your setting?
Maybe the best learning opportunities are the ones designed by the kids. Perhaps they need to create the playlists.
---
Here's what is on the horizon this week:
Monday:
Jade & Dwayne have relocated to their new rooms, we will move other classes on Monday
K – 4 staff meeting after school at Departures (please bring Softening the Edges and a pen and paper, I'll bring the agendas). As always, the meeting is open to any and all staff who may wish to attend.
Tuesday:
Wednesday:
Classroom visits: the fun in learning
Thursday:
Classroom visits: the fun in learning
Friday:
Classroom visits: the fun in learning
Subway lunch
As always, create a great week!
555 total views, 1 views today