The laughter and banter filled the dressing room as my teammates and I were getting ready for the big game. Nothing was really on the line, but when you are 11 years old every game feels like the Stanley Cup final, and this Saturday afternoon contest was no different. I had everything on but my skates, and as I rummaged through the old red canvas bag the realization hit me, I left my skates in the porch! The night before I had been at the outdoor skating rink with my buddies, and upon returning home I forgot to put my skates in my equipment bag. I had assumed mom would do that for me. I assumed wrong.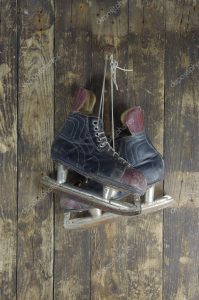 I remember as if it were yesterday. Tears filled my eyes as it became clear I wouldn't get to play, I was so upset. Seeing me crying in the corner, my coach asked me what was wrong, and after I explained it to him, he quickly took me to the caretaker's room where I phoned my dad. I told dad what happened, and within 15 minutes my skates were at the rink. To this day I'm not sure how fast dad drove, but I'm sure he was taking a significant risk zooming down the frozen Saskatchewan highway on a Saturday afternoon. In the end, I was able to play and to be honest, I do not remember anything from the game, just the sinking feeling in my gut and the relief when dad ran into the dressing room. He never yelled at me, or made me feel bad, he just helped me tie my skates and sent me on my way. What an incredible dad. I sure miss him.
The mistake I made that day was that I assumed my skates would be where they always were. I assumed that just because mom had put them there before, she would do it again. I assumed everything was fine. I think about this because I wonder if we are making a lot of assumptions about our students. Had I taken a moment to check my equipment bag I'd have noticed my skates were missing. What are we missing in our schools because we are assuming?
I recall several occasions of being guilty of assuming students understood the content I was delivering. I would explain the big idea for the lesson, proceed to demonstrate two or three examples on the board, and then, with good intentions, ask if everyone understood. I assumed they had grasped the concept. I assumed they knew what to do. I assumed. Of course, I would then be frustrated when several students would ask questions when I had just shown them three examples on the board. I assumed they understood what I was teaching them. Assumptions can be dangerous things, and when situations go sideways, it may be because we assumed one thing and were then faced with another. We need to be careful to not judge the whole iceberg just by what we see on the surface, and I've been reminded during my career of the importance of watching, talking, and listening.
Watching: I do not mean setting up a chair in the hallway and staring at kids, teachers, and parents, that would be creepy, I mean is being present in the halls, the classrooms, and on the playground. I mean being intentional. When I'm out of the office, I always try to watch how groups of kids interact with each other and make mental notes of what I see. Who is normally hanging out with who? Where do groups of kids typically congregate? What is their normal day-to-day behavior? Certain patterns begin to emerge, and what you then start to see is when things are out of the ordinary. The investment of time watching allows you to notice when things are 'off'. If you are never watching, then you will never spot unusual behavior, this could lead to assumptions.
Talking: It's amazing how willing students are to engage in conversations if you just stop and sit beside them. In my classes when I assumed the students understood, I talked to the students. Had I talked with the students I'd have quickly learned if they actually understood or were merely trying to avoid looking lost. There are many opportunities to sit and talk with kids on a daily basis, and I've found they are very willing to share what they are learning about or what they are currently busy with outside of school. Of course, the warning that comes with this is when you engage with a student in the primary grades. You need to be ready to invest a good chunk of time, especially if they are going to share exciting stories about a new pet, a trip to grandmas, or a lost tooth. Taking time to talk with students shows them you care and it creates an opportunity for the real magic: listening.
Listening: Stopping and talking opens the door for an opportunity that so many of our students need; someone to listen. Most of the time if you listen to students you will hear them tell you about the great things that are happening in their lives, they love to celebrate accomplishments or talk about fun activities they have been a part of. However, there are times when they need you to listen because something is troubling them. This is when you need to do something so important: be quiet. I learned a long time ago the power of listening to hear versus listening to speak. If you sit back and observe people talking, you usually hear them talking about themselves, frequently building upon what someone else has said. If you are listening to speak, that is what you are doing. You are hearing their words, but thinking about your experiences, and are waiting to jump in with your story. When you are listening to understand, you are not going to talk about you, you are likely going to ask questions about their story.
By watching, talking, and listening a person will begin to assume less and understand more.
Everything I wrote about was focused on students, but see how it works for you when you change the word student to teacher, co-worker, friend, or spouse. Watching, talking and listening are potent alternatives to assuming, after all, had I taken the time to look in my hockey bag, asked mom, or even better, listened to her the first time she told me to pack my equipment, I would not have assumed I had what I needed.
Here is what is on the horizon this week:
Monday:
Final day of semester 1
9 – 12 staff learning meeting AGENDA
Tuesday:
Prep day for teachers
Bruce away all day
Wednesday:
Thursday:
Watching, talking and listening during class visits
Friday:
7 – 12 progress reports and comments due to office
As always, create a great week!
1,065 total views, 1 views today