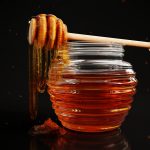 YOU'LL CATCH MORE FLIES WITH HONEY THAN VINEGAR
January is a tiring month at school. The morning commutes in darkness and frigid temperatures can sap the energy from even the heartiest Canadians. There have been many things happening lately at school; some COVID related, others just tied to our day-to-day work. Maybe this was why I felt my energy levels dipping as the students departed for the evening. I wondered how I would find the stamina to finish the work on my desk waiting for my attention. I just wrapped up crossing guard duty and made my way back into the building, but I was exhausted.
I made my way back to the office, and that's where David met me. I could tell he had something to say to me, but I was really curious about what he was carrying. After school, the office area is usually a busy place. Teachers and educational associates stop in to ask questions, discuss the day, or say farewell for the evening. This was different, though. David frequently came by the office to chat, but I could tell something was up this time.
And that box he was carrying still had me very intrigued.
I hung my coat up and tried to clear the fog from my glasses. A few more teachers had made their way into the office, and they joined in the conversation. David began to share his story. He is always a happy, upbeat guy, but he was downright giddy at this time! "I've had many kids create projects before", he began. "But this one is over and above".
An antique wooden box in his big hands reminded me of a jewellery box my mother or grandmother would have owned. He held it up in front of himself. I saw a cream coloured wooden box; however, David held it like a proud parent would hold a child. "Look what Abby created," he said. David's blue COVID mask could not conceal his smile. He opened the lid of the box, revealing the contents contained within. With the gusto of a marketing genius, David described the box's contents and explained how they were a representation of what Abby had learned in David's social studies class.
As I listened to him, I could not help but wonder if Abby knew how proud David was. I wondered if she knew he was boasting of her work. He never said, "look what I got this student to do" or "can you believe what I have the students create". He was gushing about her work, her creativity and her depth of understanding. It was ALL about Abby.
But still, I wondered if she knew how excited he was. I received my answer when I logged on to Twitter and saw @dguenther88 post: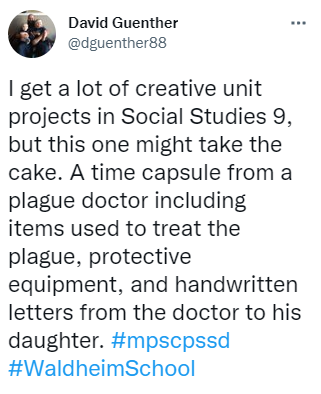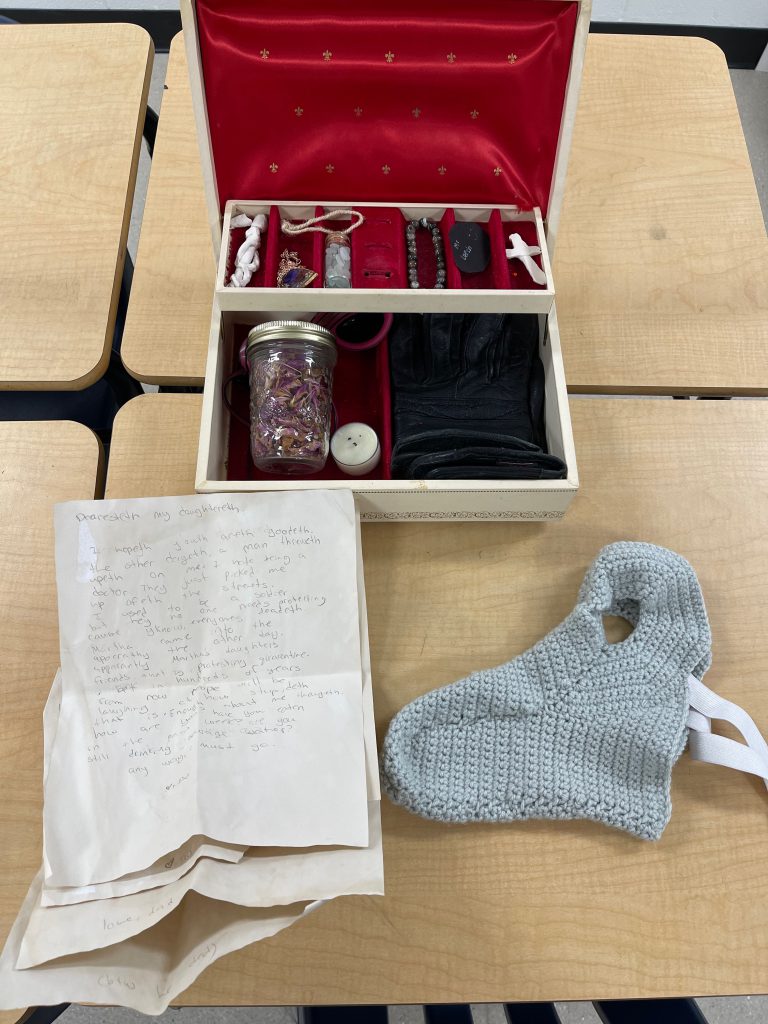 Not only did he share with us what Abby created, but he also shared it with the Twitterverse. He took the time to celebrate her work openly.
This is a choice we get to make every day. We can shout out the celebrations or grumble about our grievances. When I was younger, my mom used to say, "you'll catch more flies with honey than vinegar". This is what David chose to do today. He opted to share the sweet! It does not mean there was no 'sour' today for David; it just means he shone the light on the positive.
When you reflect on the day, what celebrations could you shout out? How do you think celebrating your students' work impacts their desire to return to your class? How does a pat on the back make someone want to go the extra mile again?
What do YOU think? I'd love to hear your thoughts.
1,423 total views, 1 views today