CURRENT NEWS
Letter to All PSSD Families – Jan. 3/2022
IMPORTANT UPDATES FROM PSSD FOR OUR FAMILIES
When needed, PSSD will send information to all families regarding working and learning together. Please refer to spiritsd.ca for more information.
Welcome Back to Prairie Spirit School Division!
Handbook Updated for 2021/22
You will find the updated Waldheim School handbook by using the drop down menu (more info) above, or by clicking here.
Supply List Update
Families have two options for purchasing school supplies for 2021/22. You can print off the supply list and purchase items from the store of your choice, or you can shop online using School Start. Click here for supply lists.

A New Look for a New Year
As the new school year approaches, Waldheim School has updated the look of their school website. All of the same information can be found by using the navigation menu at the top of the page.
Thank YOU!
What an incredible year! Thank you to the entire #WaldheimSchool community for your amazing work this year. Parents, thank you for your endless support right up to the final days this year. It has been a tough road for everyone, and you were such an important part of our success. Staff, you are incredible! From our admin assistants, to our bus drivers, caretakers, counsellors, EAs, teachers and our amazing vice-principal, there are not enough words to express how much I appreciate each and every one of you. To our community members, thank you for being a wonderful example of the saying, it takes a village. And finally, our students. I am so, so proud of all of you. You were asked to learn in new ways and were asked to experience school without many of the extra things that make school life so much fun. You wore your masks like champions, you stuck to your groups, and you followed the guidelines. Thank you so much to our older students for being such tremendous role models, and to our youngsters for working so hard every day.
Enjoy your summer break. You've sure earned it!
See you in September!
Mr. M.
WHAT WE BELIEVE
RETURN TO SCHOOL PLANS
September 2020 – Refer to the tab above to navigate to our Return to School Plans. Please keep an eye open for e-mails from the division and the school, as well as updates posted on this website and the Waldheim School Events & Announcements Facebook page (here).
---
Special Visitor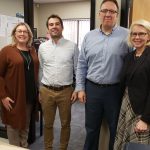 On Monday, Nov. 4th, Waldheim School welcomed Swedish Principal, Ulla Klefbom. Ulla spent the full day at our school, visiting classrooms, talking with teachers and students, and partaking in our staff learning meeting. Ulla is the principal of a new school opening up in Uppsala, Sweden and has been following the work we are doing at Waldheim School on Twitter and through our website. The timing was perfect as she was in Canada visiting family members who live in Saskatchewan.
Ulla was struck by the way Waldheim School felt. She could tell our adults and students had a very strong learning relationship, and was very curious about how our classrooms look and sound. It was a wonderful visit and we've committed staying in contact with one another, supporting the work being done in each school.
---
Having an Impact
The work we are doing at #WaldheimSchool is not going unnoticed. Have a look at this article from a national website:
---
---