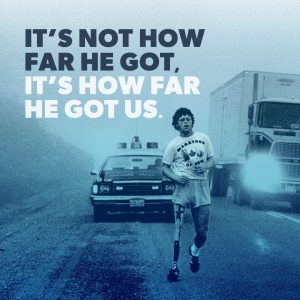 Terry Fox Marathon of Hope 2020
The students and staff of EWES will be participating in a Terry Fox walk on Friday, September 25th at 1:00 p.m. Students are encouraged to wear comfortable outdoor walking shoes and dress in EWES colors – white and blue. We will walk even in the event of inclement weather. Our virtual Kick-Off assembly will take place on Friday, September 18th at 9:00 a.m. Students are asked to donate to the Terry Fox Foundation for Cancer Research. We will be accepting donations from September 18th – 30th.
All fundraising this year must be done online.
Please use the School Fundraising Link: https://secure.terryfox.ca/registrant/TeamFundraisingPage.aspx?TeamID=906948
The school cannot issue receipts for this event. If you wish to make a larger donation and receive a tax receipt, please go on-line to www.terryfox.org or forward it directly to:
The Terry Fox Foundation 1812 9th Avenue North Regina, Sask. S4R 7T4
In using this website please note that terryfox.ca is not affiliated with Ecole Warman Elementary School and that you are trusting terryfox.org with your personal information. Details on the Terry Fox Foundation's Privacy Policy can be found at this link.
Thank you in advance,
The EWES staff