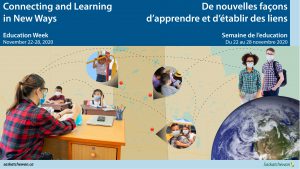 Hello ÉWES Families!!
This week, we celebrate Education Week in Saskatchewan.  The theme this year is: "Connecting and Learning in New Ways".
The Staff Education Week Committee has planned several exciting activities to connect us all in various ways including:
Listening to another teacher from another grade level/classroom read us a story (shared virtually)
Having a virtual meet and greet with another class and doing some fun Q&As, tell some jokes and having open-ended conversations to learn about one another
Connecting the whole school by each class contributing a poster connecting this year's theme, "Connecting and Learning in New Ways" and/or "What makes this school year special/ Pourquoi cette année à l'école est spéciale?" to be collected by Friday and displayed in our hallways.
We look forward to this week and celebrating Education together at EWES. A HUGE thank you to the committee ofr all of their thought and planning! Can't wait!!