It's like Mother Nature saw me flip the calendar to October, but I sure love how the trees look, the bright yellows, oranges, and reds turn the river bank into what looks like an artist's canvas. It's hard to believe we have completed our first month of the 17/18 school year, but here we are, into October, knee deep in our learning. I'm excited to welcome Amy Ward to the Waldheim School family, she is going to be taking over the grade 3/4 class for Bobby-Jo who is getting ready to welcome a new addition to her family. All the best Bobby-Jo, on behalf of the entire staff I hope everything goes well for you and baby during the entire process. We can't wait to see some pictures!
This past week I saw some great evidence of teachers using student feedback to guide their planning. I was able to pop into Steve's class the other day, and I noticed his students were given the prompt, If you give a                                    a                               . As I walked around I saw some really cool titles, one that caught my eye because it works on some many levels was If you give a panda some colour. The student knew the big idea was to create a story to share with a Kindergarten student, but also knew that she could embed a message for the older students as well. It will be interesting to see where this story goes. I recognized this lesson of Steve's and we spoke a bit about how he "tweaked" it from the last time he had students do this activity. He talked about what he had learned through observing the students and how he used that feedback to guide his planning for this year. Sometimes it's the small changes that make the biggest difference.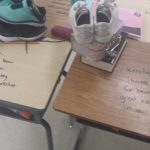 This past week I also noticed one of the coolest things I've seen in a long time when I strolled past Brittney's classroom Thursday morning. In her room, Brittney had jotted a quick message for each student, and that would be one of the first things they would see to start the day, what an amazing thing to do that costs nothing but gives so much. Why this moved me so much was because Brittney's class had a bit of a bumpy day on their field trip, and she could tell they were feeling a little down on themselves as a group. Instead of ignoring the feedback they were giving her, Brittney tuned into them and realized they were needing something. As I said above, sometimes it's the small things that make the biggest impact. When you think about the month we've had, what are some of the little things you've done that may have gone unnoticed by most but paid off for those few in need? Maybe it's the quick conversation in the hallway, or the high-five to a colleague in the staffroom. Maybe it was a little note on an assignment or a terrific learning activity that resonated with the kids. Whatever it was, take a moment and remember that those are the times that count the most.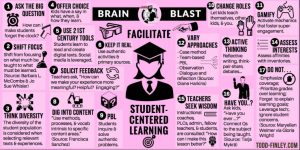 I came across this graphic today on Twitter, and it spoke about how to facilitate student centered learning. In it there are a lot of great suggestions, and as I read it, I kept reflecting on My Prairie Spirit Classroom and the work we are doing. I compare our learning journey to the growth of a child. On Saturday we were at a family event, and one person who had not seen my son Bobby (the 10 yr old) in quite some time commented on how much he had grown and changed. Of course he has, but as I see him everyday, I do not notice it the same way someone else might. When I think about how much our schools have changed over the past few years, I wonder what we are not noticing because we are immersed in our work. What would someone who has been out of school for a few years notice if they came into your room? What would today's students notice if they were taken back to your classroom when you were their age?
Here's what lies ahead this week:
Monday:
Bruce away (am for sure, possibly all day) ~ son's medical appointment
New supervision cycle begins
Classroom visits (I am going to focus on asking questions to help you reflect, bear with me if it feels a bit 'forced' for the first few)
Tuesday
Wednesday
Thursday
Bus driver meeting & bus evacuation drills (first thing in the morning – classes will be called down)
Classroom visits
Friday
PD / Prep day (more information coming out this week as to what you should be thinking of coming into the PD)
As always, create a great week!
171 total views, 1 views today