November 20th – 24th
Posted On November 19, 2017
A relatively quiet weekend around our house, as November colds have caught up to a few of us, but that does give one a good excuse to watch football, even if it was a heart breaker. Like the Riders, our volleyball teams have wrapped up their seasons as the senior boys finished their year in Langham on Saturday. It was nice to see such involvement from so many kids at the junior and senior level, and it looks like it will be a similar story with the basketball teams who get rolling this week.
I'm very excited about our staff meeting (gotta think of a better name for these…suggestions?) and the sharing that will be taking place tomorrow. Joanne, Cara, Shantel, and Amy all have amazing things for us to learn about, and I'm so thankful that they have agreed to share what they have been learning about recently. I saw a post today on Twitter that caught my eye, and it was a link to an  interesting website (found here) that views Bloom's Taxonomy through the lens of digital learning. What I noticed in the planning verbs is that they are not only at home in our classrooms, but in our staff meetings (any thoughts on a new name yet?) as well. I'm wondering what planning verbs from the list will be used at tomorrow's meeting.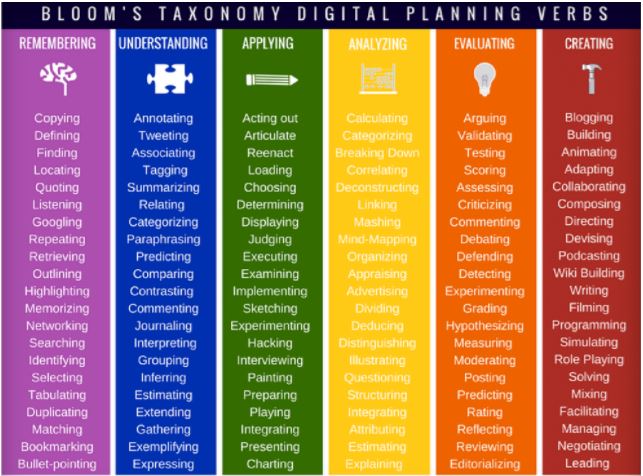 Here's what lies ahead this week:
Monday:
Staff meeting 3:15 (Mr. Derksen's room)
NOTE: the team meeting previously scheduled for 9:00 – 10:30 in the library has been postponed, the library will be open all day
Tuesday:
Steve & Brenda at LF meeting
Wednesday:
Team meeting 9:00 (Brenda's room)
Thursday:
Friday:
Jon Yellowlees school visit
As always, create a great week!
292 total views, 1 views today