Calendar: PSSD School Year Calendar 2019-2020
Course Selection:
Bell schedule: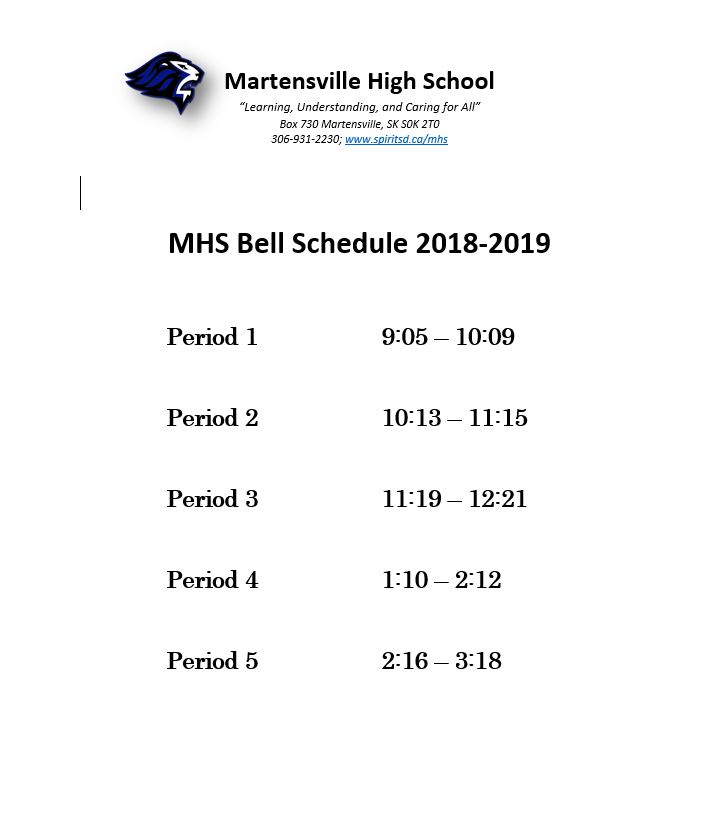 Busing Information:
MHS Guidelines Bus Stop Times and Maps – Feb 3 2017
Note to parents/guardians: Emergency Preparedness Planning
In addition to conducing fire and bus evacuation drills, schools need to practice for other kinds of potential emergencies. Two main ones include Lockdowns and Hold and Secures.
Lockdown
Lockdown is defined as the restriction of movement during the time of a potentially serious violent incident. Schools go into lockdown when there is a significant and immediate threat inside or in the direct vicinity of the building. During a lockdown students and staff take secured shelter, lock all classroom doors, and remain quiet.
Hold and Secure
Hold and Secure is for exterior emergency situations not related, but in close proximity, to the school. In this situation, any students outside the building come in. The exterior doors are locked and monitored by staff. Movement may be restricted depending upon the threat. School continues to function normally inside the building.
Information for parents on social media sites and apps:
Social Media Sites and APPs
Information for parents:
PSSD Letter to Parents re: Community Threat Assessment and Support Protocol
MHS Course Selection:
MHS Course Selection Handbook
MHS Credit Requirements Information Sheet
Math Pathways Information (grades 10 and 11)
Senior Sciences Curriculum Renewal (2013-2014)
MHS Awards Criteria:
Scholarships:
 Local Scholarships – 2017
The Duke of Edinburgh's Award offers youth ages 14-25 the opportunity to make a difference to themselves and their communities. Our school offers a special subject credit for students participating in the program. See our career and guidance counsellor for information.
Transportation:
PSSD Busing guidelines for families
Learning resources:
MHS student guide for essay writing