Congratulations to Ron and the senior boys volleyball team for a successful Saturday, it's so nice to see their hard work pay off.  On a not so happy note, Friday's terrible events in Paris had me glued to the TV and social media as information continued to surface about the horrific ISIS attacks.  You may want to consider how you will handle classroom discussions should they arise through questions from students who will have certainly heard about this as well. Situations like these also help me put my own life in perspective.  I had a tough conversation with a parent on Friday that gave me some things to reflect on, and while it may have dampened my mood a bit, I needed to remember some advice I received from my father, that is, don't let the highs get too high or the lows get too low.
Here is a look at what's coming up this week:
Monday 16th
Lori is popping in for a visit, she will be out around 8:30
Tuesday 17th
Senior progress reports should be ready to go as the issues with PowerSchool seem to have been rectified
Wednesday 18th
Final Humphrey Assembly
Bruce gone in the afternoon (my son's ed psych assessment)
Thursday 19th
John Kuzbik visit ~ 8:30 am
Friday 20th
Just a reminder that progress reports for grades 1 – 8 are due on Monday 23rd
This week's learning link are contained below:
This learning link deals with the workshop model in your math class.  It has been so great to see some of this happening in our school this year.  There is a pretty interesting video from a grade 5 class as well as some helpful information that could get you started or help you on the journey you are currently on.  http://mathsolutions.com/nl48/math-workshop.html 
The second link deals with trying to avoid the dreading shoelace inspection, you know the one that occurs after you ask a question.  This article posits that maybe it's the type of question that is standing in the way of discussions.  Have a read and see if you can make any connections to the article.  http://www.cea-ace.ca/education-canada/article/engaging-students-through-effective-questions 
This final piece relates to the Prairie Spirit School Foundation and their Trip a Month fundraiser.  Click on the poster for more information.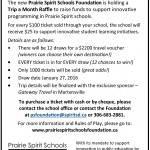 As always, create a great week!
310 total views, 1 views today