Welcome back one and all after what I'm hoping was a tremendous break for everyone.  Monday marks the return of Jackie Salzl to grade 7, and we are all excited to see her back in the building.  When Ami returned she remarked that it felt like September in February, and I'm sure Jackie will be feeling the same way.  Sandra texted me during the break with more exciting news, some of our new furniture order from The Brick has arrived!  Please touch base with Ron to see if you can get your hands on some of this stuff for your room.
Over the break I continued with my latest read (The Innovator's Mindset – George Couros) and was thinking a lot about what we are doing at Hepburn School.  George defines innovation, "as a way of thinking that creates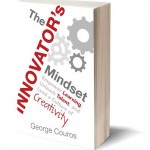 something new and better.  Innovation can come from either "invention" (something totally new) or "iteration" (a change of something that already exists), but if it does not meet the idea of "new and better", it is not innovative."  Something that kept rolling around in my head as I read this was the question, what kind of learning environment is needed for innovation to occur?  Ron & I have had endless discussions about learning and the environment we are trying to create that will help you feel free to come up with new and better ways to help your students learn. I'd like to challenge you to continue being innovative and keep trying new things. If you do go ahead and try something and find that it flops (which sometimes happens when we try new things), please feel free to use this do over card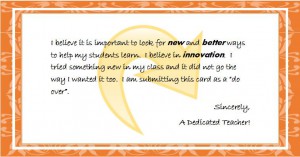 So, it's one thing to say, "go for it", but it's another to say "go for it, and by the way here's something that might help".  With that, I offer learning link number one.  It is a post from George Couros as he discusses the 8 characteristics of the innovator's mindset. I've spoken with teachers in our own building who are looking for new and better ways to do what has always been done. Just the other day Ruth spoke to Ron & I about changing how she is going to deliver her math curriculum from a standard classroom model to a more collaborative boardroom setting (speak to her for more info).  Ami has been wrestling with the concept of integrating curricula to make better use of her students time and energy.  I am looking at a different form of summative assessment in my Workplace Math 20 class, ditching the old test I would normally administer and offering up a project to the kids as a way of demonstrating their understanding.  Innovation is happening in our building, I just think we need to talk about it more!
Learning link number two is a TEDtalk by Charles Leadbeater who discusses the need for innovation in education.  How do you spark curiosity in your classroom? How is technology used for more than just searching and showing? How have you disrupted the formal education in your setting?
---
What's Up This Week:
Monday:
Grade 4's & 5's are off to watch the Blades play in Saskatoon
Tuesday:
Grade 10 – 12 ski trip to Table Mountain (Jesse, Kurt, Ryan, Scott, Meredith)
Wednesday:
Gambling awareness presentation (gr. 7 – 9 + Life Transitions class)
Denae Ebach & Kaitlin Bueckert are writing the Science Challenge exam (see Renaye for more info on this)
Thursday:
Friday:
As always, create a great week!
190 total views, 1 views today