Hmm, I'm starting to worry about Mother Nature.  I actually saw a couple people jogging down the street on Friday as I was going to pick up my kids from their school, and I thought, "geesh, this is February, and it's plus 8 out there!" Fast forward to tonight and that's a wicked wind, jolting us back to reality.
It was a busy weekend around Mr. M's house as new bedroom furniture arrived for Maggie's (our 2 1/2 year old girl) room and I had the pleasure of putting this together.  As I was doing this the kids were so excited about the change and they were more than willing to help take out the old and help set up the new. It's interesting how an initial change can spark excitement, I'm reminded of how this also happened for Bobby (9 yrs old) and Eva (5 yrs old) on separate occasions.  Today the aforementioned two are not as excited as they were before, as now their bedroom is just back to being their bedroom.  I'm sure this will happen for Maggie as well.  And before you wonder, yes Charlie (Maggie's twin brother) has a room too :).  Along with this excitement, I also stole a little time for myself on Saturday to watch a little bit of the Detroit Red Wings / Colorado Avalanche hockey game.  I tuned in for the spectacle, not the teams (I cheer for Arizona and Ottawa), for it was an outdoor game.  Initially the viewing experience was pretty cool, but eventually it just turned into another hockey game, and I found myself flipping back to the Toronto vs. Montreal game.
So, what does bedroom furniture and an outdoor hockey game have to do with learning?  After all, this blog is intended to focus on student and adult learning.  My message this week has to do with classroom environment.  Ron and Cory were busy last week getting our new furniture (it's beautiful by the way, nice eye Ron!) distributed to different classrooms.  As was the case with the library last year, there was a buzz of excitement when the students saw the new digs.  What we need to remember, however, is that it is not the furniture that makes the learning environment, it's the teachers stance on learning.  Look at the statement from My Prairie Spirit Classroom below,
Learning opportunities for all students are characterized by high expectations (rigour), personal and purposeful application (relevance), collaborative learning environments (relationship), risk-taking to consider alternative instructional approaches (innovative) and student choice (engagement).
It is important to have comfortable, collaborative learning environments, however that can't be all we do.  How do you keep your expectations high (rigour)? What are you doing to keep the work relevant? What kind of innovation is occurring in your room in an attempt to engage?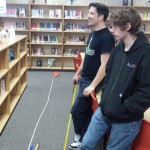 I've included a picture of something I saw on Friday in the library. Kurt is currently teaching grade 11 math (Workplace & Apprenticeship 20) and is in the midst of his unit studying slope. When I saw him in the library with a couple students I asked what they were up to, and he informed me they are brainstorming how to learn about angles and slope by designing a miniature mini golf course (a mini-mini-golf course). What stood out was how the students were driving the conversation and thus the learning.  Very cool stuff indeed!
Learning link 1 is an article that shares the experience of a teacher that turned over the classroom design to her students, and while doing that she introduced them to some new technology!
Learning link 2 is one I really like because it contains seven really good questions that cause one to pause and reflect on their own classroom practices.
What's up this week?
Monday:
SRC kick off spirit week
NHL trade deadline day
Tuesday:
Super Tuesday in the good ole US of A
Wednesday:
Kindergarten parent conferences
Thursday:
Friday:
SRC winter spirit week 7-12 wind up (pm)
As always, create a great week!
212 total views, 1 views today