April 4th – April 8th
Posted On April 4, 2016
Whoa! +22 on Saturday in the city! Took the kids for ice cream and a run in the park, just a warm up for summer…which will be here….eventually. I hope everyone had a wonderful break and are recharged and ready to go for the final 3 month push.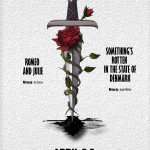 Hoping Ryan has a great trip with a crew of PSSD professionals as he heads to New Hampshire for the week to observe Penny Kittle. This is a real honor for our school as Ryan was selected from a large pool of interested teachers. Have fun and learn lots Ryan! Back home, Jamie and her drama crew are heading into what she calls, "crazy production week". Jamie et al work so hard preparing for this and I'm sure Romeo and Julie will be a smashing success! Remember there are two performances this week for you to choose from.
Our technology order is slowly trickling in, so hopefully we can have iPads & Chromebooks distributed soon.  In the mean time, here is Ellen working with some kids on technology of the past:
Here's what's up this week:
Monday:
Welcome back, it's day 1!
Ryan gone all week to New Hampshire, Verna subbing
Envirotech are coming to pick up old chemicals
Tuesday:
Conference room booked 9:00 for a team meeting
Jr. Badminton to Borden
Wednesday:
Bruce gone (pm only) Admin book study
Sr. Badminton to Warman
Thursday:
Grade 5 Saskatoon field trip (Ron & Ami both gone)
Drama dress rehearsal (let Jamie know if you are coming to watch)
Friday:
Grade 5 Hot Dog Sale
Drama performance (7:00 pm)
Create a great week!
294 total views, 1 views today