Another glorious weekend, and it looks like the weather will continue to be nice this week, great news for you golfers, right Scott? I had an amazing weekend with lots of different activities; helping my mom work in her yard, watching my nephew play wheelchair basketball in the Western Nationals, and exploring different parks in the city with my kids. What were you busy doing this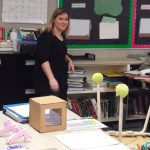 weekend?
This week is a special one in PSSD as it kicks off the annual Learning for Life presentations by all of our schools. In May, our regular monthly administrator's meeting is replaced with several
presentations where 3 or 4 different schools come together in Warman to share their learning story from the past year. This year we are so excited to have Jamie coming along to share her story, which really is the story of all of us. We have had such a tremendous year together, and when Ron, Jamie and I huddle around a computer deciding what to include in our presentation, we marvel at how far we have come this year. In August, I felt we were a staff who collectively looked at the My Prairie Spirit Classroom document with trepidation and doubts. Today, I feel we are a staff that believes in risk-taking when it comes to our own learning, and we are open to sharing with each other. Does this mean we have MPSC mastered in all of its facets? Of course not, but there has been a real growth in the culture of learning at Hepburn School, and I'm excited to see where this continues to go.
Some of the great things I see when I go into classes are when you allow kids to explore their own creativity. From Kurt with his TinkerCAD in math class, to Renaye and her element picture boxes, to Leah & Ruth's genius hour, to Meredith's photo journalism presentations, the list could go on and on. Some of the creative things are
easier for us to see, like the amazing art work Sandi and Jesse have been inspiring their students to create, while others are not so visible to all, like the creative thinking Scott is having his students do as they explore Shakespeare. Learning link 1 talks about creativity in the classroom, with three of the authors favorite strategies. What can you steal from this article?
One of the things we are most excited to talk about in Warman, is our dedicated reading time.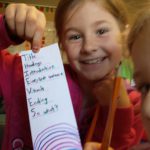 This article, learning link 2, caught my eye right away, as it is the topic of many conversations Ron and I have in his office on a weekly basis. I was able to sit in on one of Ruth's book talks the other day, and was inspired to come up with a list of books I want to talk to classes about. Are you doing book talks during or after your reading time? Do the kids know what you like to read?
As always, lot's going on this week, so here is a look ahead…
Music Monday:
Students from gr. 7 – 12 will have an opportunity to head over to Martensville for some music education
Staff meeting after school (Ryan's room)
Tuesday:
Ron, Jamie & Bruce away (am only) at our Learning for Life presentation
Jr. badminton playoffs today
Wednesday:
Grade 7 – 12 lacrosse lessons today (thanks to elem. teachers for making gym available)
Thursday:
Jr. badminton playoffs, round 2
Ascension Day (you may be missing several students today)
Friday:
University of Saskatchewan track athletes here to work with students in 7 – 12
As always, create a great week!
123 total views, 2 views today