I'm really hoping that this cool weather makes way for warmer autumn days, I'm certainly not ready for winter just yet! We had a terrific weekend celebrating my daughter's 6th birthday, and I was reminded that while being a teacher/administrator is an important job, being a dad is the critical work that always has to come first. I hope you always take time to enjoy being with family and friends, it really helps re-charge one's batteries.
I shared with a few people that Waldheim School now has their own official Twitter account and to access it you can click @waldheim_school. There is an older Waldheim School Twitter account so make sure you do not follow the wrong one! Chris and I were discussing Twitter earlier this month and we would like everyone to sign up if you haven't already. The first learning link today is all about Twitter and how beneficial it can be for educators. Have a look and see what you think.
While Twitter does a great job of connecting us with people around the world, face-to-face collaboration is still  vital, and is a skill that kids need to continually work at. In her blog, Pernille Ripp talks about a great activity she does with her students. As you read through, think about any connections you can see between her student lead conversations and our work with MPSC. Hopefully learning link number two causes you to think about how you hold class discussions….it got me thinking about conversations we have at staff meetings.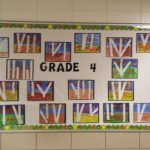 It's pretty cool to see student work starting to pop up around the hallways and in the classroom. Not only does it look great, it is also a great boost for the students to see their work displayed for all to see. Learning link three talks about the importance of displaying student work and offers up some other ideas for moving learning forward through this.
Here's what is coming up this week:
Monday:
Staff meeting 3:15 (library)
Wednesday:
Grade 8 bike trip to Laird
Chris away
Thursday:
Meet the Teacher Night! (5:00 – 7:00, including BBQ supper)
Chris away
Friday:
PD (am ~ details coming this week)
Prep
Create a great week!
---
181 total views, 1 views today