Great to see the Riders pull off a victory. I did not watch the game as I was busy with the kids all day, but happy days in Greenville nonetheless. It was a mixed bag of weather and hopefully you were able to get out Saturday and enjoy the changing of the leaves. We ventured out to the Berry Barn for a slice of pie and a cup of coffee, then went for a nice walk as the kids ran and ran and ran!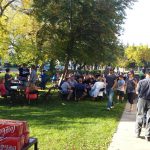 I've been reflecting a lot on the events of last week as I am still in the learning stage at Waldheim School.  The meet the teacher BBQ Thursday night and the PD session on Friday morning were more evidence of the strength of the school community. To see teachers, parents, and students laughing side-by-side over a burger and a pop was tremendous. I heard a lot of great things from the community about the school and was honored to be there.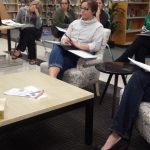 Friday morning was an amazing learning experience for me. I was floored by the depth of your conversations and how you all are investing everything you have in your students. I was excited to see everyone involved and was so inspired at the way everyone was allowed to have a voice in the room. I really hope you all took some time to reflect on the question, what will someone learn because you were in the room? Special thanks to Brenda, Bobby-Jo, Krysten, and Sharlene for taking part in our first fish bowl session. I know we were tight for time, but I could tell that there were many more questions and "a-ha's" that could have been shared along with the ones that were. The fish bowl is a great opportunity for us to learn together, and I am excited to continue this at other PD sessions and at the occasional staff meeting. I wonder if any of you will give this a try in your classroom? If so, please give Chris and I a heads up, we'd love to come and observe. If not, what would be some barriers?
This week I'm including one learning link and it is from the PD materials that the division sent out prior to Friday. This is a great video that talks about how to spark student learning and reminds us that student questions are the seeds of learning. Have a look, I'd love to hear what you think.
Here is what is going on this week:
Monday 19th:

Picture Day! SMILE!
Cross Country meet in Langham

Tuesday 20th:

Chris & Bruce gone all day to ALT seminar ~ Warman

Wednesday 21st:

Chris & Bruce gone all day to ALT seminar day 2 ~ Warman

Thursday 22nd:
Friday 23rd:

New teacher orientation
Elementary assembly
As always, create a great week!
---
183 total views, 1 views today