Another wonderful weekend with the kiddos, lots of fun activities going on to keep us busy. On Saturday we spent time visiting my mom, and my niece and her new baby girl. Bobby and Charlie are interested in the baby, but it's Eva and Maggie who are really over the moon with her. They spent a lot of time holding the baby, feeding her, and just laughing at the noises and faces she makes. It was so cute to watch as they were playing with their own real live doll. Sunday was another fun day as we celebrated Eva's 7th birthday. It's hard to believe it's been 7 years already,  but she's growing up to be a pretty spectacular kid.
It's also hard to believe we have completed a week of school already, it just seems like yesterday we were enjoying the beautiful summer weather. When I think back on the week, I am very encouraged by the enthusiasm I've seen and heard in the hallways and classrooms. The students were hard at work and I saw things like:
coding
creating oobleck
sketching objects from different angles
running football routes
practicing multiplication skills
getting over fears and self doubt
small group discussions on learned helplessness
discussing our favorite numbers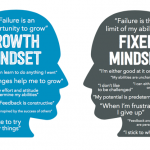 And this was just in one short week! One of the things that really stood out was the mindset all of you have taken with your students. There is a feeling of belief in every classroom, and I hear things like, "you can if" and "what if you tried this", it's so great to see! During the year there will be a lot of discussions about mindset, and lots of opportunities at staff meetings and during hallway conversations to think about the power of our belief in the students we are working with. A friend of mine posted this article online today and as I read it I really wanted to go back and start my teaching career over. So many of my tasks were very superficial, not intentionally, but rarely did I really push my students to make "stretch mistakes" nor did I seize enough on "a-ha moment mistakes". Too often I jumped in to help rescue the students, this is something Joanne and I talked about last week as she was discussing learned helplessness with her psychology class. If you have a chance give the article a read, I'd love to hear your thoughts.
Here's what lies ahead this week:
Monday:
Staff meeting (3:15 pm) ~ Big Idea: How do I structure my environment to optimize learning
Bruce meeting with SCC chair (am)
Classroom visits
Tuesday:
Bruce & Jesse away at ALT, Katharine will be acting administrator
Wednesday:
Meet the teacher BBQ preparation
Evan away with senior golfers
Classroom visits
Thursday:
Meet the teacher BBQ (4:30 – 6:30 pm)
Brittney away learning about effective writing instruction
Classroom visits
Friday:
Katharine away learning about effective writing instruction
As always, create a great week!
353 total views, 1 views today