How Pretty Does it Have To Look? April 16 – 20
Posted On April 15, 2018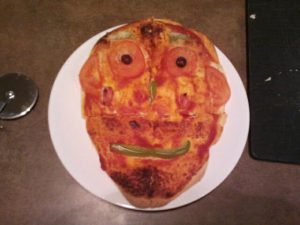 This weekend was another quiet one around our place as Krista was working all weekend at the hospital. The kids and I were busy tidying up the winter toys, cleaning up the van, getting dad's car ready, and keeping up with the day to day duties. There was also lots of time spent chasing the dog around the basement and playing with their new sketch books and sticker books (the things you find when you open the trunk of your car after 6 months!)
One thing the kids love to do is to help make lunch and supper. On Saturday, we had fun making homemade pizzas using flatbread as our crusts. The kids were able to slather on their sauce, add their toppings and then continually ask, "how much longer, how much longer?" I reflect on this activity after having read my Sunday e-mail from Brad Nichol, who spoke a lot about side-by-side learning.
When I think about the learning that was going on making these pizzas, I think about things like estimating portions, fine motor skills, learning about time, shapes, fractions, and even healthy eating. While Bobby has no trouble spreading his sauce and estimating how much cheese to grab from the bowl, Charlie has a few struggles. So while he was left with a pizza that wasn't as professional looking as Bobby's, he enjoyed it all the same. Something else the kids learned about was how to take turns, and how to be patient. With 6 pizzas to make, and only enough room for two kids at the kitchen island, they needed to practice patience. It was a fun time for the kids, and for some reason, they always like their pizzas a little better when they have a hand in making them. From my perspective, it's more time consuming, it leads to frustration and mess, and truth be told, I likely rather just do it myself (confession: there are many days that I do).
On Sunday, Bobby had to work on writing a persuasive piece for his teacher, and decided to argue in favor of bringing vending machines to his school. He worked on this beside me, asking for some suggestions and wondering if I could read what he had wrote. As I read it, I wanted desperately to tell him to add this or change that, but I had to resist. For Bobby, the letter he was writing was similar to the pizza Charlie made on Saturday. It wasn't a masterpiece, but in the end it was his, and just like I put Charlie's pizza in the oven, I did help by typing Bobby's letter. These are skills they are still working on.
How does this relate to what we do as we learn side-by-side with our kids at school? How much do we tell or show? How much leading is too much, and do we let our kids struggle enough? When we talk about My Prairie Spirit Classroom, we talk a lot about side-by-side learning, effective feedback, relevance, rigor, and student voice and choice just to name a few. As you think about the tasks you are asking the students to complete, how do you know if they are ready, and what do you do if you find out they are not? Last week, Ellen was discussing a risk she was taking as she was inviting her grade 10 Environmental Science class to learn about various forms of energy through a class debate. Part of this process involved bringing in experts from outside of the school, like the local mayor. I wonder how she knew her students were ready to be a part of this conversation with him?
As you read this, and think about your students, I'd love to know what you are wondering.
Here's what lies ahead this week:
Monday:
setting up gym for Annie play
classroom visits (Brad has me thinking about things I can do to make these visits more valuable for you, I'll discuss that with you individually this week as opportunities present themselves)
Tuesday:
Bruce & Jesse at ALT (Katharine is acting admin)
Annie matinee performance
Wednesday:
Annie evening performance
My wife's birthday (don't let me forget!!!)
Classroom visits
Thursday:
EA meeting (presentation planning)
Classroom visits
Friday:
Annie evening performance
Classroom visits
As always, create a great week!
264 total views, 1 views today