What gives you pride and joy in your work? When Brad was out for a visit on Friday afternoon, he asked that question, one which had been asked by Lori Jeschke on a few different occasions. Pride and joy at work. At one point I would have thought that was an oxymoron, I would have said pride and joy at work was like jumbo shrimp, or found missing. The thing is, when asked about what gives me pride and joy at work, I actually had more trouble narrowing it down than I did with coming up with just one answer. Before you read any further, however, I'd like you to answer the question yourself. What brings you pride and joy at work?
I'll get to my answer in a bit, but I need to share the other side of the coin, what brings me pride and joy in my life. If you visit this blog, it's likely very obvious; it's my children. I am always in awe of the things they do, and sometimes I may be in awe of the poor choices. For instance, how did anyone think that putting apple sauce on the family dog would be a great idea, but one of my kids did, and I was in awe of that decision. Of course there are other moments, moments when I sit back and think, "how did they become so awesome!?!" This Saturday was one of those moments when I was full of pride and joy.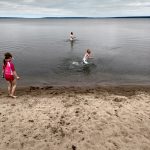 The forecast was for clear, sunny skies, so I could not resist a trip up to Waskesiu with Bobby, Maggie, and Charlie, while Krista and Eva were at Girl Guides camp at Pike Lake.As my kids were playing on the beach, I noticed a grandmother and her granddaughter, who I'd assume was about 15 months old given how she walked on the beach, approach the area where my kids were digging. I made my way over to them, just to be sure Charlie would not inadvertently hurt the little girl, however to my surprise, Charlie got down on his knees and said, "hi there. Do you want to play?" She instinctively reached for the shovel he had, and that's when the pride kicked in. He offered it up to her, and then proceeded to show her the rest of their beach toys. They played together under her grandmother's supervision for a few minutes before she toddled away on another adventure, while Charlie returned to the place that Bobby and Maggie were playing. These two will likely never see each other again, however it was during that moment that their lives intersected that I felt great pride in my little guy.
When I think about the joy in my life, I also think about the time I get to spend with my family. Today was one of those days as I was able to take the kids to the University for a walk, then to my mom's for a visit, and finally, to Art in the Park to look around and listen to a little music. We have so much fun together, and the part that brings me so much joy is the way they fully capture me, allowing me to put the rest of my life on pause for a moment. This brings me great joy.
Have you answered the question yet? What brings you pride and joy at work?
For me, I feel great pride when members of the #WaldheimSchool community achieve success as a result of their efforts. It could be personal bests in athletics, nailing a line or song in the play, creating a great product in class, hitting a home run in a lesson they've delivered, delivering an engrossing presentation to the staff at a staff meeting, or successfully planting the seeds for a more engaged community. So many people do so many different, amazing things at our school, and it's being able to be a part of that that brings me great pride.
When I think about what brings me joy at work, I think it's when I see or hear about those who struggle the most have moments of success. I'm never as happy as when someone who is full of self doubt smiles with pride, and when someone who tells themself, "I can't do that", and then they turn around and exceed their own expectations. I see it everyday, kids and adults alike who are faced with challenges find a way to overcome, and grow. I truly hope you can identify what brings you pride and joy in your work, and I hope you are able to share that with others.
We are three weeks away from the end of the year, let's make every moment count, and it starts this week:
Monday:
Staff meeting
Gr. 6 at Camp Kadesh
Tuesday:
Bruce & Jesse away at ALT
Gr. 6 at Camp Kadesh
Wednesday:
Katie Kulchar coming for a visit
Thursday:
Div. III Soccer
Bricks for Kids (gr. 1/2, 2, 3, 5)
Friday:
Grade 7-12 Slo-Pitch tournament
As always, create a great week!
403 total views, 1 views today