Just Let Go. June 18 – 22
Posted On June 17, 2018
"It's okay daddy,  just hang on and then let go!" Those were the words of my seven year old daughter, Eva, today as we spent a bit of Father's Day at their new favorite place, Clip and Climb. This is a place that makes wall climbing accessible for all ages and abilities, and does so in a safe, fun way. As I watched all four of my kids scurry up rope ladders, climbing walls, and jungle gyms, I noticed my palms were beginning to sweat, and my chest was getting a little tight. You see, I'm very scared of heights. This fear makes several things difficult for me, like hanging Christmas lights on my house, cleaning eave troughs, or fixing the banners in the gym. I don't like heights, but there I was, in my safety harness, with my little ones who were encouraging me to go for it. I cautiously started up a pretty basic structure, and when I was about 8 feet off the ground I went for it….almost. That's when my seven year old reminded me to just let go. So I did. It was such a rush of adrenaline as I was lowered safely to the ground via an autobelay that is specifically designed to prevent you from free falling to the ground.
I had successfully dipped my toe in the water, and was ready for my next climb. This is when Bobby asked me to climb the rope ladder with him. As we made our way up, I noticed I was beginning to feel very nervous again. Bobby swiftly made it right to the top of his ladder, while I froze half way up, a height that I'd say was about 50 feet up, while in reality, was likely more around 15 feet. Regardless, I was faced with the same challenge, just let go. It took quite a few deep breaths, and some encouragement from the staff, but again, I went for it. I repeated this pattern over and over, even commiserating with some other parents that had been coerced into the "fun". As I kept trying different structures something started to change. I have no idea when exactly it happened, but after a while I noticed I was not scared anymore, I was tired, but not scared. I was taking more chances, climbing higher, taking a few more risks, and all the while, having a lot of fun!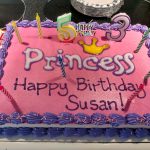 Initially I was going to write about the importance of laughter, and it's therapeutic benefits (see here) after we had spent time at my sister's birthday party on Saturday. It was today's experience, though, that had me reflecting on the work we've done this year and the change that awaits all of us next year. I know when we started our learning journey this year there was some fear and nervousness, and each of us had to just let go at some point. Just as I was completely exhausted at the end of the day today, I know we are all tired as the end of the year approaches. While I was exhausted, I was also proud of what I had done in overcoming some of my fears. As the end of the year creeps closer, I am also very proud of the work that has been done at our school this year. For a moment, I'd like you to consider the following:
what filled you with fear and/or nervousness at the start of the year?
how did you work to overcome these fears?
how do you feel about the work you've done now that the end of the year approaches?
how can you draw on what you learned this year to help you continue to grow next year and beyond?
We have a great week ahead, with a lot of work for all learners at #WaldheimSchool, and it starts tomorrow with a grade 7 & 8 field trip. Here's what lies ahead this week:
Monday
grade 7/8 trip to Redberry
Tuesday
Bruce away (am) swimming with kids pre-K class
Wednesday
Thursday: National Indigenous Peoples Day
Bruce away (am) classroom environment meeting
Bricks 4 Kids day 2
Annual Jones awards
Last day of classes (10 – 12)
Friday
Final exams begin
Laird Grad
As always, create a great week!
306 total views, 1 views today