Don't Be Afraid Like I Was
Posted On November 18, 2018
What a fun weekend! On Saturday I took Eva and Maggie to my sister's as we gathered with some aunties, uncles, and cousins. It was especially nice to see my aunt Lisa and her daughter Carrie who flew up from the United States to spend some time with my mom. I don't get to see aunt Lisa and her family nearly as much as I'd like, but this weekend was fun. One of the best parts of the day was watching the kids creating Christmas decorations at the table. My mom had bought some paint and traditional ornaments and the kids went to work painting them a wide variety of colors. I'm sure they will be wonderful additions to the tree this year.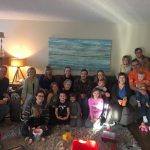 There was a lot of 'creating' this weekend, along with the ornaments, there were snow forts and Lego creations being constructed. What I noticed as the kids were working with paint, snow, and plastic bricks, was that there was a varying degree of choice. As they painted, they had the freedom to use any combination of the many colors that were available to them, and while there were the traditional red Santa suits, and green wreaths, some of the angels and stars were quite a sight. Similar to the painting, while the kids were creating their forts, they were free to let their imagination be the architects. The kids knew there were several rules that had to be followed, for example, Charlie learned the hard way that stacking the larger blocks on the smaller ones leads to unstable walls. Finally, as they put their Lego sets together, the kids made sure they closely followed the instructions, frequently referring to the picture of the race car they were slowly creating. So, while each activity brought with it a varying degree of freedom of creativity, all three activities were thoroughly enjoyed. There was such a depth of engagement that in all three instances the kids had to be convinced to leave the fun for birthday cake, supper, and bed time baths.
Given the current work we are doing to deepen our understanding of assessment, you may be wondering what sort of rubric I created for each activity. You may wonder if all of the kids earned 3's or 4's and you may be curious about the feedback I gave to the kids during our conference time. Of course you know this is all 'tongue in cheek', as there was no summative assessment, nor was there a piece of paper fixed to the forts commenting on the lack of symmetry or clear disregard for proper fort building codes.
But there was assessment going on
As the girls painted they chatted with each other asking what they thought of their color choices. There were a lot of comments like, "oh, I like that" and "why don't you try this color". Similarly, as Bobby and Charlie worked away in the front yard, I could hear Charlie asking Bobby for help, and as they were building, Bobby would reassure Charlie with comments like "hey buddy, that looks cool" and "no Charlie, it will work better if you make this edge flat". Finally, as the boys built their Lego cars, they were continually assessing their work by referring to the picture of what the finished product should look like. This self and peer assessment went on, partly because I knew enough to stay out of the way and keep my opinions to myself.
Too often as a teacher, I was afraid to turn the assessment over to the students. I always felt I had to be the one to judge their work and what eventually happened was that my students struggled when I asked them to do any sort of self assessment. Too often they were trying to figure out what I would say, rather than focusing on what they had learned during the process. As I visit classrooms I am always in awe with how simple you all make it look. Whether it's how Dwayne intentionally sets his kids in pairs for their math work so they can help each other with their formative assessment, or how Katharine has her kids turn and talk several times during their independent work time, or how Ellen allows her students to take a few moments prior to writing her math and science tests to connect with a classmate to ease their anxiety, this great assessment work is happening in our building.
As you continue to work through Katie White's book, keep thinking about how you are building meaningful self assessment into your already engaging lessons. Keep thinking about how you can empower students to take part in meaningful self assessment so you are not making the same mistakes I made. Keep thinking about how you can capture and share the meaningful self assessment that is happening in your lessons. Keep thinking about how you can build optimism and self-esteem by using 'soft-edged' self assessment.
Here's what is on the horizon this week:
Monday:
9-12 staff meeting (agenda sent out Friday), please commit to having chapters 3 & 4 read as it will guide much of our discussion after school
Bruce away (pm) for classroom environment committee work
Tuesday:
student vaccination (please refer to Corinne's email from last week)
Wednesday:
classroom visits (listening to students self assess)
Thursday:
classroom visits (listening to students self assess)
potential pep rally for sr. boys volleyball team as they qualified for Provincials
Friday:
classroom visits (listening to students self assess)
As always, create a great week!
371 total views, 1 views today