There is something neat going around Twitter these days. It's something straightforward, but revealing in the same vein. It's the #7BooksILove challenge. Here is how the challenge works; at some point, one of your Twitter friends will invite you to take part in the challenge, and for one week, you are to post a picture of seven books that have meaning for you. The challenging part is that you can only post the cover, there are no explanations allowed as to why. Initially, I thought this was somewhat interesting, however as more posts kept popping up, I was intrigued by the titles that were being shared.
It was interesting to see people posting images of current titles, but at the same time, it was the titles from their youth that made me smile. It was like they were opening a small window and allowing us to see a little piece of their childhood. For example, my younger sister, Sandy (@MMellesmoen ) has posted covers of Why Shoot the Teacher by Max Braithwaite and Sweet Valley High: Double Love by Francine Pascal. As I saw these tweets, I began to wonder why these titles resonated with her. What was it about these books that spoke to her? Certainly questions I will pursue answers to the next time we get together for coffee.
It is the simplicity of this challenge that had me thinking about how we are coming to know our students. During our learning meetings, we have discussed our assessment practices and how we are developing a deeper understanding of every child we work with. Conversations, observations, and products; all part of the process you are using to help paint a picture for yourself, the students, and their parents. Where would something like the #7BooksILove challenge fit? How could you tailor this for your class? Could home ec students have a #7MealsILove challenge? Could our History students have a #7InfluentialMoments challenge? Could our science students have a #7CoolExperiments challenge? Could our Kindergarten students have a #7ImportantPeople challenge?
The power of this #7BooksILove challenge is that it is something everyone can be a part of because it is about them. There is no right answer, only information. This requires no 'marking' as the process is a way to add more pieces to the endless puzzle that is our students. How would this information help you help your students? How could this be used as a tool for engagement? How would this help you develop relevance?
It is a process that invites further conversations, after all, you may wonder why these were my #7BooksILove covers: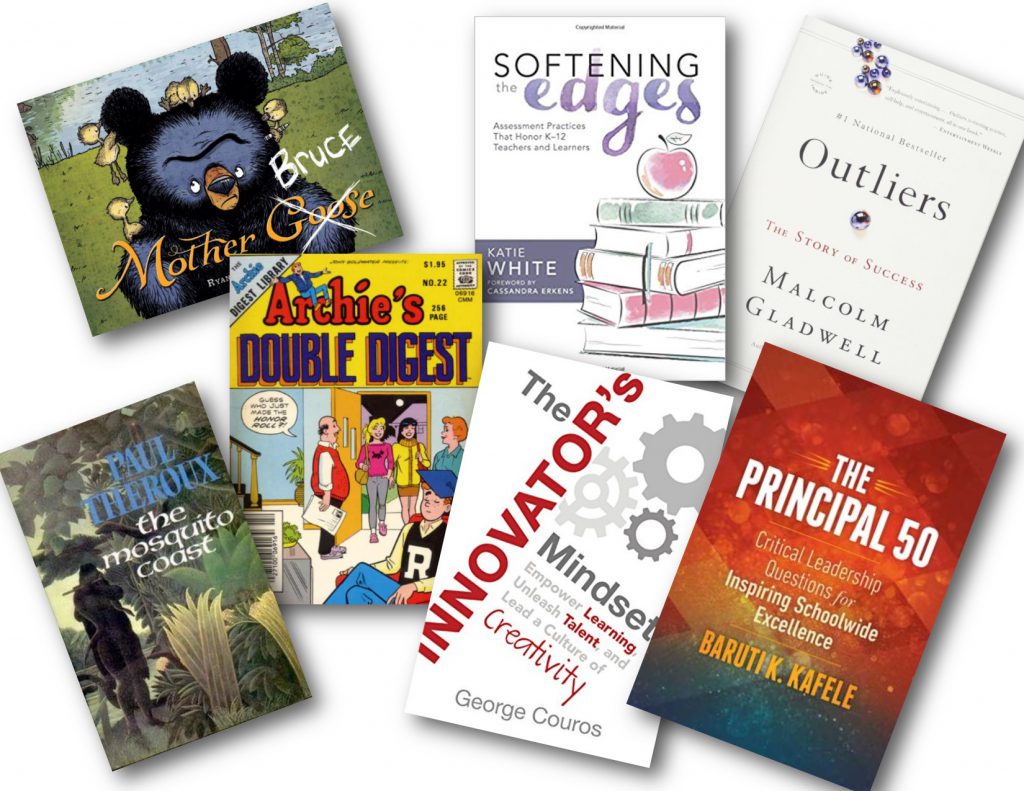 As always, create a great week!
363 total views, 1 views today