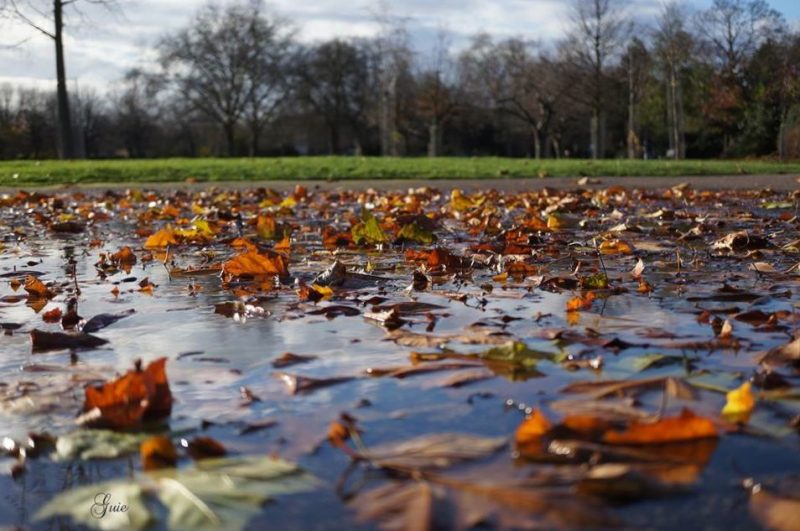 I have been thinking about my youth. For some reason, I am finding myself reminiscing about years gone by, whether it is because I watch my own children at play or because fifty is quickly approaching. Recently I was recalling a favourite place in my home town. The ParticiPark, which was a legacy project created by the local Kinsmen Club in the early 1980s, was a place that holds many special memories for me. As a child, I'd explore the vast, winding trails that meandered through the tall trees. I would play with my friends in the park as we would let our imagination make the rules. We would always end up with various bumps, bruises, and scrapes. It was a place where we could be creative, there were no rules or supervision, just kids being kids. It was a place of misspent hours where we would make mistakes. It would be where we'd have our first puff of a cigarette nabbed from my dad's coat. It was a place where disagreements might be solved through fisticuffs. It was a place where we learned how to be friends. A place for serious debates about Batman versus Superman. A place for clumsy first kisses. We were young, curious, healthy and free.
I loved late September and early October in the park as the coloured leaves formed a carpet on the ground, and the crisp air was full of the smells of autumn. I also loved spring in the park as the annual melt created many opportunities for us to get really creative. Whether intentional or through a flaw in the design, the paths in the park would always flood with dirty, frigid water. We would spend hours playing on homemade rafts that would inevitably tip or sink, leaving us with full boots, wet clothes, and sore ribs from all the laughter. It was a recent edchat on Twitter that brought many of these special memories floating back, and it has me thinking about the way our children are continually learning.
The #atAssess chat was titled Assessment in Exploratory Contexts, and once I figured out what that meant, I started looking at the questions and thinking about the work we are doing at #WaldheimSchool. Participants in the chat were invited to share their thoughts and experiences as they related to the following questions:
1. Rich learning can often happen outside the confines of a classroom. How might we integrate assessment into outdoor, schoolyard learning?
2. How might we collect and document evidence of learning while outdoors?
3. How might we assess students when everyone is "on the move"?
4. In what ways can assessment unleash student imagination?
5. What might our assessment approaches look and sound like when they are engaging imagination?
6. What are some of the barriers we might remove from our assessment practices in order to optimize open-ended learning contexts?
7. Why are assessment and exploratory contexts often seen as contradictory? How might we shift this perception?
Taking part in this chat had me reflecting on the many ways we already are doing much of this work in our school. I think about students planting gardens, building cardboard boats (which would have rocked in the ParticiPark), or studying shadow length outside. I think about the way students are invited to bring their experiences into their learning by the way you allow them choice in their reading and writing, by allowing them choice in their art and PAA creations, by opening up opportunities through Genius Hour, and by inviting their voice in your speaking circles.
We are doing great things, but how do we keep growing? I go back to a conversation I had with Trace a few weeks ago as he shared something he was wondering about. As a phys ed teacher, he was wondering how he could leverage the activities many of his students were involved in outside of school. For example, should all of the physical activity involved in hunting somehow be acknowledged for a high school student? What about the student who regularly participates in rodeos? What about the boy who follows a strict workout plan after school? What about the girl actively involved in synchronized swimming? Do we 'count' this extra-curricular activity as we strive to understand our students? Or, is this just that, extra? Should it merely stand alone and not impact or influence our work? Can it?
When you think about the students you know and work with, how do the myriad of outside activities become woven into the fabric of learning in your setting? What about the boy who finds therapy in tending to his garden? What about the girl who is creating animated art on her tablet 'for fun'? What about the kids who have built their YouTube channel called D – Three Reacts, a channel with over 48,000 subscribers (yes, 48,000!!!)? What about the kid that is struggling with the harsh realities life sometimes unfairly throws their way? How is all of this learning being brought into your class? Or does it sit alone, untapped, on the sidelines?
With five weeks remaining, and many outdoor learning opportunities coming our way, how will you let your students' imaginations run free while trying to capture some of the learning?
Here is what lies on the horizon this week:
Monday:
June & Brenda pre-K visits
Bruce away (pm)
Tuesday:
Firefighter challenge (1:00 – 1:45)
June & Brenda pre-K visits (part 2)
Wednesday:
Amazing Race (1:45ish)
Student Support Team Year in Review Meeting (11:30 – 1:00 ~ Joanne, Brenda, Jade, Bruce)
Thursday:
Learning for Life Presentation! Jesse, Ellen, Dwayne, Katharine, and Bruce away (am)
Friday:
7 – 12 track and field athletes and helpers away (list finalized this week)
As always, create a great week!
291 total views, 1 views today