Career Guidance Information
Career Exploration, Skill Development, Experiential Learning: SIEC Newsletter – October 2021
2020-20201 Course Selection: 
If students have not chosen their classes for the 2020-2021 school year please do so a.s.a.p. as we require that information in order to move forward with creating timetables. Course selection information can be found at https://blogs.spiritsd.ca/martensvillehighschool/courses/
Please do not hesitate to contact Ms. Cooper if you have any questions.
Saskatchewan Youth Apprenticeship:
Saskatchewan Youth Apprenticeship (SYA) is a high school program designed to help students discover the rewards of working in the skilled trades through hands-on experience. It provides students with a head start on apprenticeship and a better understanding of the steps to journeyperson certification. Students who complete all three levels and register as an apprentice in a designated trade within five years to receive the following benefits:
1) Waiver of registration fee (currently $200)*
2) No charge for Level 1 technical training tuition*
3) 300 hours of trade-time credit**

To register, students can visit https://saskapprenticeship.ca/SYAcontract/
Students then work to complete the challenges found at https://saskapprenticeship.ca/wp-content/uploads/2019/07/sya-challenges-booklet.pdf

myBlueprint: 
myBlueprint is a comprehensive education and career/life planning program. It provides students with tools needed to make the most informed decisions about their future. The program has a "Discover Yourself" section with five comprehensive Who Am I assessment, a section to track student graduation and beyond, a template for students to create a resume and more. All Prairie Spirit students have access to this program. To create an account, students can visit www.myblueprint.ca/spiritsd. Students will then click "sign up", select Martensville High School and "Create Account".
POST-SECONDARY DEADLINES:
University of Saskatchewan – Deadlines for Fall 2020 Start

Saskatchewan Polytechnic
Application is still open for any First Qualified, First Admitted Programs (some programs will be full, but students can still apply to be on the waiting list. Please visit https://saskpolytech.ca/programs-and-courses/browse-programs/a-z-listing.aspx  for specific program details. 

ACCEPTING POST-SECONDARY OFFERS
University of Saskatchewan: 
The University of Saskatchewan sends out acceptance letters to students once they have been accepted into a program. Students are reminded to accept their offers via their application account through the University of Saskatchewan website (apply.usask.ca) 
Saskatchewan Polytechnic: 
Students are reminded to login to their mysaskpolytech accounts regularly to check the status of their applications. Saskatchewan Polytechnic does not mail out acceptance letters, so students are responsible for checking their accounts regularly.
POST-SECONDARY ACADEMIC ADVISING
University of Saskatchewan: 
Linda Huard is a student recruiter with the University of Saskatchewan. Recruiters can assist students with choosing classes, creating schedules, and can provide useful resources, such as videos to help students prepare for class registration in June.
Students can book appointments with Linda through the online booking service below or by emailing her directly at linda.huard@usask.ca
https://outlook.office365.com/owa/calendar/STMAcademicAdvising@stmcollege.ca/bookings/
Students can also contact advisers in the program they have been accepted to. 

TRANSCRIPTS
Access to Unofficial Transcripts: 
If students require an unofficial transcript when applying for scholarships they can send me an e-mail. 
Official Transcripts:
If students have already ordered Official Transcripts to be sent to their Post-Secondary Institutions of choice from the Ministry of Education, those will be sent out after marks are stored at the end of June. If students still need to order transcripts that can be done by visiting https://www.k12.gov.sk.ca/etranscript/

SASKATOON INDUSTRY EDUCATION COUNCIL PROGRAMS

Saskatchewan Industry Education Council Bootcamps & Spotlights: 
All SIEC Bootcamps and Spotlights have been paused for the time being. MHS will update students and families once more information is received from the SIEC. 
Saskatchewan Youth Internship Program: 
Are you looking for a summer job and considering the trades or IT sector?  The Summer Youth Internship Program allows you to earn competitive wages, high school credits and hours toward an apprenticeship with jobs available in many different areas. Application deadline is May 12. Application forms can be found at https://www.saskatooniec.ca/syip/. Students must submit an application, consent form and two teacher recommendation forms. 
Relevance Magazine: 
This magazine offers invaluable career resource information. May special attention to the "How to Finance Your Tomorrow: Scholarships & Awards" section on page 20. The magazine can be found at:  https://www.saskatooniec.ca/siec-wordpress/wp-content/uploads/Relevance_2020-lowres.pdf
CAREER EDUCATION
Saskatchewan becomes the first jurisdiction in North America to offer universal career focused, industry specific safety training, completely free to all youth age 14-21. This includes training in worker rights and responsibilities through the Young Worker Readiness Course (WorkSafe), training in basic chemical safety through WHMIS 2015(Saskatchewan Safety Council), and a standardized industry designed safety orientation. To find more information you can visit our website: http://www.sasksafety.org/training/youth/career-safety-education                           Video Link: https://youtu.be/kBvNxINxQ7M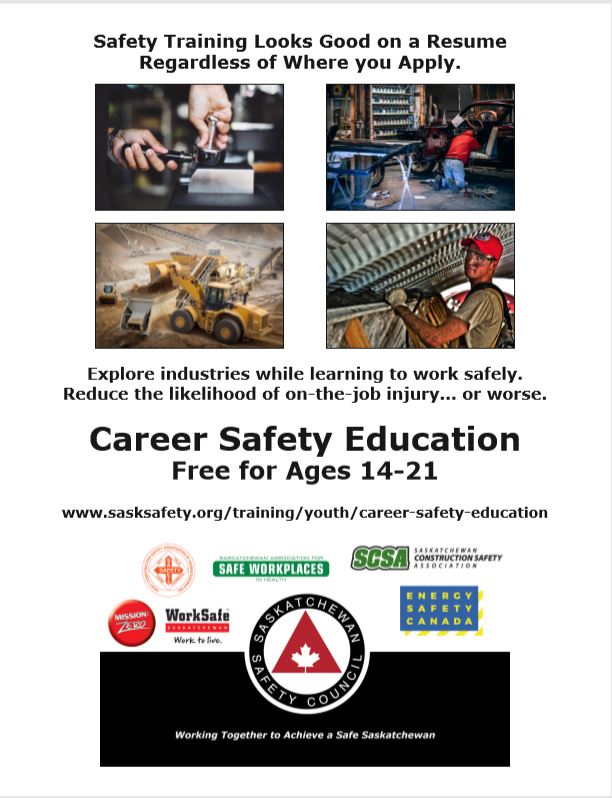 Students and parents alike are encouraged to check out the Prairie Spirit "Future Choice" website at www.futurechoice.ca — documents such as Grade 11 or 12 timelines, career planning guides and more can be accessed under the "Students" tab as well as the "Parents" tab.