Amazing how fast those days off seems to melt away, I certainly hope everyone had a chance to relax and recharge their batteries. I spent a lot of time playing with the kids, we ventured to the University on Saturday and spent Sunday with my mom and her brother and 4 sisters. It was so nice be with my uncle and aunties again, as it reminded me of the many, many times we spent together sharing stories, laughing, crying, singing around the piano, playing cards, or crokinole. One thing for sure, once everyone is back together we all know how to interact, it's just part of our family culture. Over the years people have aged, we've said tearful farewells to family members, however we've also shed tears as we welcomed new family members through marriages and child birth. Through the years there have been many constants that have been handed down from grandparents to parents to children. This is what a family does.
I caught myself thinking about our school family, how people may leave and how new members may arrive. I think about the culture of Waldheim School and the culture of adult learning that is thriving. As a new member I can see things others may now take for granted, things that have always just been "how we do things around here". One thing that has stood out over anything else is the culture of caring at Waldheim School, the way we care for our students and the way we care for one another. This cannot go unnoticed by our students, they have to see the way we care, and I truly believe that this is one of the reasons we have such a caring student body.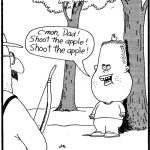 One of the clear benefits of having this caring environment is the risks it affords us as teachers to take. Our kids know we care, so they are likely more willing to "cut us some slack" if we try something and it flops. Having a culture like this at our school allows us to be transformational, it allows us to really analyze what it is we are doing as professionals. In tonight's learning link, author Todd Finley talks about the art and science of teaching, and how we need to facilitate the "productive struggle". Have a read and see if you can identify things you are doing already and maybe some areas where you can give yourself a little nudge.
We are going to start asking kids for their feedback next week, as the OurSCHOOL (formerly Tell Them From Me) survey will be administered. I've set up a schedule and once Chris and I double check to make sure the times work we will let you know when your students will have a chance to share their voice with us.
Here is what lies ahead this week:
Monday:
Prep day ~ Chris, Bruce, Brenda meeting 8:15 – 8:45
Tuesday:
Day 6 as we get back at it.
Chris away ~ @Warman all day
Wednesday:
Thursday:
Jon Yellowlees out to work with new teachers
Fire Drill today
Friday:
As always, create a great week!
168 total views, 1 views today