A touch windy, but wow, was that a beautiful weekend! The weather was perfect to be outside, and we took full advantage both days. On Saturday, we took part in the annual Martensville  Buster Days Pancake Breakfast. We have been doing this every year since moving to Martensville, and it is so cool to be able to share the experience with the kids, who gobble down their pancakes and sausage as fast as they can so they can get a look at the model train exhibit. From there we ventured downtown, found a prime spot and waited for the parade, another huge hit with the kids. Sunday was another great day to be with family, as we went for a picnic at the University (beside Innovation Place), and then wandered over to Grandma's house for some dessert, and some shade. While we were there the kids were put to work, pulling weeds and planting flowers.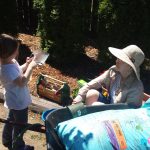 As I watched my two youngest planting marigolds with my mom, I was reminded of something George Couros (@gcouros) spoke about at CAP2017. He talked about how it's sometimes necessary to be the "sage on the stage", that we can't always leave the learning to the students to discover all on their own. My mom and dad were always so proud of their flower gardens in Watrous, and were always in contention for yard of the year, as that was an annual award that was presented in our home town. It was wonderful to see our kids learning from their grandma, she gave them clear instructions and helped them navigate the soil, helped them press the flower into the dirt with just the right touch, and then apply just enough water. As I watched I was guilty of thinking about school and how we balance when to lead and when to step aside and let the kids explore on their own. When you think about the skill building that goes on in your class, when do you need to be the "sage on the stage" and when do you need to be the "guide by their side"? This also made me think of this very popular video of a girl learning how to ski jump, it's a fun video.
We have a shortened week ahead, however we all know it will be no less busy. On Monday you have a full prep day, this is your time to use as you wish. I will be in and out of meetings all day, so if you see my door closed, it's likely that I'm in with someone. I'm very excited to say that Jesse Reis will be joining us for part of the day, hopefully you will get a chance to meet him and introduce yourself to our new VP. On Thursday our 4, 5, and 6 qualifiers will be heading over to Hepburn for the annual WHHRLS track meet, that should be a great day!
Here is what lies ahead for the week:
Monday:
Prep Day
I'm in meetings at 9:00, 10:30, and 1:30
Tuesday:
Bruce, David, and Jesse at ALT
Wednesday:
Bruce in transition meetings with Joanne
Thursday:
Katharine, Dwayne, and Bruce at WHHRLS all day
Friday:
Bruce in transition meetings with Joanne
As always, create a great week!
628 total views, 1 views today