January 2nd to 6th
Posted On January 2, 2017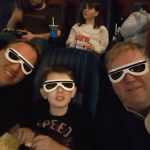 What a wonderful, relaxing break! I spent a lot of time playing with the kids, visiting with my family, watching hockey (go Canada!), eating too much great food, and I even managed to get out to see Rogue One. Regardless of what you did during the break, I hope you were able to take some time for yourself and recharge your batteries. Both of my older kids have been saying repeatedly they can't wait to get back to school, Bobby is excited to see his best friend who went to Cuba and Eva is looking forward to seeing her teacher again. Think about your students, how do you think they are feeling today as classes are just one sleep away for them? What are you going to do or say to remind them how important they are to our school family? We are also welcoming back a family member who has been away on maternity leave. Katherine is coming back to grade 4, and it is so great to have her back.
Of course this time of year is a time for "best of" lists. Everything from sports to science to politics to entertainment, everyone has an opinion on the best and worst of 2016. If you had to create a "best of" list for your year, what would some of the highlights be? There were a lot of links coming across Twitter during the break, and learning link one caught my eye for a couple reasons, the first being the title, the second being the author. Vicki Davis (@coolcatteacher) has been one of my favorites lately, and this post is another great one. As you read think about how you have grown as a teacher, has it been slow and steady or are you staying the same fast? The second learning link is a to an online chat tonight with Dave Burgess (author of Teach Like a Pirate) where the topic is getting kids engaged after the winter break. I often check out these chat sessions as I find the questions cause me to really reflect on what's happening in my school. Occasionally I'll add my two cents or ask a question, but usually I'm more of a quiet observer.
It looks like the weather is going to be a bit nasty this week, so bundle up 🙂 Here's what lies ahead:
Tuesday 3rd 
Wednesday 4th
Thursday 5th
Friday 6th
Create a great week!
572 total views, 1 views today