May 8th – 12th
Posted On May 7, 2017
What a gorgeous weekend! It was perfect weather to play outside with the kids and get some more yard work done, and we even had a chance to go for a cruise by the river with the top down. Even though it's time for flip-flops and burgers, I still managed to dig deep and find the strength to watch some hockey, I know, a real sacrifice. Hopefully you were able to find some time to rest and relax these past two days and are charged and ready to create another great week!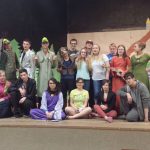 I had a chance to visit with a relative who is busy preparing for the arrival of their first child which is due in early July. She talked about planning the baby's room, picking the perfect crib, getting those just right shelves, and of course selecting the best color scheme. It reminded me of the work that went into getting things ready for our kids, the paint, the crib, the shelves, the picture frames, etc. As we were discussing this,  I could not help but think about the way we set up our classrooms and the way we are intentional in using the environment as the third teacher. Later this month, Sharlene is working with two colleagues to look at her learning environment, taking time to reflect on the year and then plan for the future. As an administrator, I'm excited by this, but just a tiny bit nervous when I also consider the budget, but as a fellow administrator once said, "if you want to know what a school values, follow the money". In this week's learning link there are several great ideas, and wonderful quotes, but the one that jumped out at me was, "Every person needs a place that is furnished with hope", Maya Angelou. This week I'd invite you to take a second look at your environment and think about ways you have been intentional in your design. If you can make the time, take a walking tour of the classrooms, and ask your peers why they have gone the route they have.
Hopefully you had a chance to look over the agenda for our staff meeting on Monday, Brenda has (once again) put a lot of thought and effort into the planning of this. The agenda can be found by clicking here: Staff Meeting – May 8. It would be great if you could take some time to think about how you have worked to actualize MPSC this year, and how you have continued to build on what you have done in the past. I'm looking forward to more great conversations where I can learn from you! Speaking of learning from you, thank you to those who have completed the survey I sent out on Friday, wow! Tremendous feedback on how you have enjoyed your role this year and what things David and I can consider as we keep planning for next year. Thank you for that!
Here's what lies ahead this week:
Monday:
Tuesday:
SCC Annual General Meeting & Elections (feel free to attend if interested) 5:30 pm.
Wednesday:
Bruce & David at a learning lunch with Darrell Derksen
Thursday:
Kindergarten Mother's Day tea
Friday:
Create a great week!
334 total views, 1 views today