I took the twins to Watrous today as they are spending the next few days with their grandpa and grandma, an annual trek that all of our kids have enjoyed over the years. They have so much fun learning from grandma, be looking after her dog, helping her bake cookies, or learning about why Little Manitou Lake is so buoyant. One of my favorite things to do when I drop the kids off is take some time to drive around Watrous and Manitou Beach, I love the colors and smells of September as the leaves begin to turn and fall.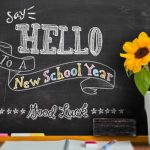 While I love the sights and smells of fall, what I really love is the feeling of first day back. Your rooms look great, the kids will have their supplies nice and new, there will be fresh hair cuts, new shoes, fancy outfits, and a lot of happy parents. I know how my kids are feeling about going back tomorrow, Eva is so excited for grade 2, while Bobby is a little more reserved, but I know he's excited as well as he heads for grade 5. How do you think your students are feeling? What's going through their minds as they lay their heads on their pillows tonight? I'd also invite you to think about your own thoughts about the students who are coming into your classes. Who is going to need a little extra love? Who is going to learn in a way that is different than the rest? Who is going to teach you to teach in different ways? Through all of this, I'd invite you to reflect on our conversation last week, our conversation about why we do what we do.
Enjoy tomorrow, create a great day for your students, and let's make this the best year it can be for everyone!
What Lies Ahead:
Monday:
Tuesday:
First day of classes
Assembly at 9:30 (listen for all call prior to coming to the gym)
Classroom visits
Wednesday:
Thursday:
Friday:
As always, create a great week!
256 total views, 1 views today