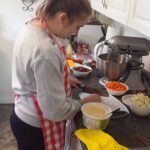 You know you are home when certain smells welcome you as you walk through the door, and old familiar memories flood over you. Such was the case today as I went to visit my mom, sister and her family who all live together in Saskatoon. As I walked down to mom's place I could tell something was up as soon as I smelled the beets, and they weren't even cooking yet! She had gathered up all the ingredients she needed to create a large batch of borscht for the company she was having later this week. My mom comes from a large family, and next weekend she's hosting five of her siblings along with some of their kids, and she has been extra busy baking and cooking in preparation. What was fun to watch was her granddaughter, my niece, Ally, working away at the recipe in an attempt to help her grandma get ready for the house full. As she chopped and measured, stirred and sampled, I could not help but think about the genuine learning and teaching occurring right in front of me. My niece, who is in her first year of University, has a love for cooking and baking, and much of this comes from spending time with my mom who has helped nurture this through authentic side-by-side learning. While we were there we also had some time to spend visiting my little grand-niece, Malia, who recently turned 4 months old. My kids adore her, the twins look at her like she is a real live doll, and they can't help but crack up whenever she makes any "typical" baby sounds. They are learning so much every time they visit her, hold her, feed her, and as her mother hopes, eventually change her. So much of this learning is through observing, careful guidance, continual feedback, and close observation of the baby and how she reacts.
All of this learning has me very excited about this week's staff meeting where we will get to share an artifact with our peers and learn along side one another. I'm curious to see what people are going to bring, there has been some talk about what will be shared, but I almost get a sense that people don't want to let the "cat out of the bag" before Monday afternoon. Something I've been thinking about is the learning culture at our school, and how far along our learning journey we are. Currently I'm reading, Everyday Courage for School Leaders and I've been reflecting on how lucky I am to work with such a great staff. Author, Cathy Lassiter (@cathy_lassiter), writes, "(a)s it relates to moral courage for school leaders, Leithwood, Harris, and Hopkins (2008, p. 28) point out that principals can have an impact on pupil learning through a positive influence on staff beliefs, values, motivation, skills, and knowledge, and ensuring good working conditions in the school, and that these factors all contribute to improved staff performance." The mental note I made was that I do not need to change anyone's mind on our staff about student learning. I have noticed that we all play a part in creating those good working conditions by pushing each other and pushing our thinking. I wonder how you would answer these questions:
how do you contribute to the overall learning culture at Waldheim School?
who nudges your thinking on a regular basis?
whose thinking do you nudge?
I'd love to hear your thoughts on these questions, or on any other thoughts you may have on our learning culture.
Here's what lies ahead for another busy week:
Monday:
Staff meeting 3:15 – 4:15
Classroom visits: what do I notice about the questions in the room?
Tuesday:
Bruce gone to ALT (pm only)
Classroom visits (am): what do I notice about the questions in the room?
Wednesday:
Trace gone with PE 20/30 & Wildlife Mgmt. 20/30 joint field trip
Classroom visits: what do I notice about the questions in the room?
Thursday:
Remembrance Day Ceremony
Classroom visits: what do I notice about the questions in the room?
7 – 12 Progress Reports sent home today
Friday:
As always, create a great week!
219 total views, 1 views today