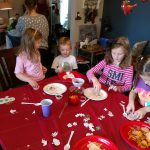 Whew, what a weekend! Bobby had his 11th birthday party on Friday night, and it was quite the party at the Shaw Centre. The kids had fun eating pizza, posing in the Lego photo booth, and then of course, swimming! I'm quite certain there were some tired kids on the way back to Martensville, with this big kid being the most tired. Saturday was a great day as I was able to get some one on one time with Maggie as we ventured out for a coffee and a quick oil change on the SUV, at 4 years old, she is so fascinated with the little things in life. The weekend ended with the kids taking part in my niece's annual Christmas cookie decorating afternoon. She has hosted this for years, and my kids really enjoy playing with the other kids. Of course, the highlight for them is snacking on the special decorations while they create their unique creations.
My friend George Couros (@gcouros) had a great post on Twitter today which really had me thinking about the stages of my career and how comfortable I felt in the classroom when I discovered balance. When you look at this quote and reflect on your daily work with your students, can you identify when you wear different hats? Do you feel comfortable wearing these hats, or are there certain ones that you feel "safer" in?
When I reflect on my time teaching grade 5 in Langham, I had the opportunity to teach ELA, math, social studies, science, health, and phys ed. I felt very reluctant to step away from being being the sage on the stage during ELA, and I think it was that I did not feel confident enough in my own ability to see learning if I did not set it up in a way that I controlled everything that was happening. My science class was a stark contrast to my ELA, however, as I loved to turn the kids loose as they investigated different properties in an effort to answer different scientific questions. Unlike ELA, I was much more confident with the science curriculum. The point is, I was aware of my strengths and the areas I needed to grow in so I could develop a more enjoyable learning environment for the kids. By tapping into other experts I continued to work on my ELA, and to a lesser extent, my social studies, and was quite happy with what I had developed over the years.
Today I was excited to see the results from the survey (OurSCHOOL) the students completed in November, and upon my first, quick perusal, the results seem very positive. I am going to spend more time looking into what our kids had to say, and would like to invite all of the staff at the next staff meeting to have a look, and discuss the feedback. Before you get a chance to have a look, what do you predict will be the sentiments of our students? What areas of growth do you think the kids have identified? I'm sure it will be great food for thought!
Finally, I read an article that I just had to share. It talks about learning to love those students who may be tough to like. It resonated so loudly with me for two reasons. The first is that I know I was a tough kid to like for some teachers as I was growing up. I recall being asked to sit in the hallway on a couple occasions because I was too worried about getting laughs from my peers than from learning what the teacher was trying to teach me. The second is that I have had the pleasure of working with many of these students over the years. One student I taught in my very first year was a challenging grade 9 student who was very uninterested in my industrial arts course (it likely did not help that I had no clue what I was doing at that time). During the course of the year we would butt heads on a regular basis, and in the end I know neither of us enjoyed working together. Little did I know, he felt like I never gave up on him. We spoke years later at a social event, and he apologized for being such a pain (his words) and thanked me for always giving him a fresh chance everyday. He said he appreciated that I tried to make class interesting and fun and that he regretted not being a better student. I was shocked. We had a good chuckle over it, and today he is a successful educator in a different division. Is there a student you are having trouble "liking" right now? If so, what are you doing about it?
Here's what lies ahead as we enter the final two weeks before our Christmas break:
Monday:
Bruce in a team meeting 9:00 – 10:45 (library closed)
Career fair expo in the gym (as discussed at our last staff meeting)
Tuesday:
Classroom visits: question for students, "what has been the coolest thing you've learned this year?"
Wednesday:
Classroom visits: question for students, "what has been the coolest thing you've learned this year?"
Thursday:
Grade 8 toy sale (see Trace for more details)
Classroom visits: question for students, "what has been the coolest thing you've learned this year?"
Friday:
Bruce at Laird to watch Christmas concert final rehearsal
Classroom visits: question for students, "what has been the coolest thing you've learned this year?"
As always, create a great week!
351 total views, 1 views today