Our Kids Are Problem Solvers: February 12 – 16
Between forts in the basement, new toys for the dog, cold weather, and a Costco shopping trip, it's been a whirlwind of a weekend. The kids were busy today playing with Bella and making their Valentines Day cards for their classmates. It reminded me of when I was a youngster, the 14th was always one of my favorites, as everyone in class was anxious to pass out their cards and then equally as excited to empty their boxes to see what well-wishes they received. It was a great exercise for Charlie and Maggie as they practiced printing their names over and over, it was cool to see Charlie celebrate after each successful card.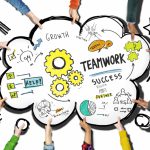 This week we get to learn from each other again, as Trace and Glen will be presenting at our staff meeting on Monday. As you may have seen on the agenda I sent out Friday, Trace will be discussing student engagement, while Glen is going to share some of the research he's been doing in relation to his subject area. I love the opportunity to learn and listen from everyone, and am constantly reminded of the amazing work that is going on in our school. As you come into the meeting tomorrow, what role will you play in the learning in the room? What are you prepared to give as a leader on the staff? What are you hoping to learn? As Glen and Trace share their work, how is their work supporting our over-arching goal of getting to know each student as a learner on a deeper level? How will you share your thoughts with them in the days that follow?
Last year I was lucky enough to get to meet, and spend some time chatting with a presenter at a conference I attended in Prince Albert. His name is Jimmy Casas (@casas_jimmy), and in his latest blog (found here) he asks the readers if they are fixing or teaching. The article is geared towards administrators, but certainly applies to the classroom, and how we are teaching kids to be resilient, problem solvers, and how we are inviting teamwork. He writes,
Here are 10 things to consider to help propel your team(s) to becoming more independent and eventually more successful in resolving their own issues so they can help others resolve theirs.

See yourself and others as learners first.
Listen to concerns with the intent to understand, not respond.
Ask questions to gain more clarity. Don't lead off with possible solutions. (Asking better questions will only come as the result of you being a better listener)
Spend more time in conversation. This shows others you value the relationship too.
Bring a third or even a fourth party into the conversation to model the importance of team resolution.
Value all opinions in order to help nurture an environment that values curiosity.
When others struggle to resolve their own issues, don't stamp them with a label.
Provide ongoing support, time, and resources needed for a successful resolution.
Follow up with an encouraging word or note and then check-in again to recognize and celebrate the progress.
Encourage them to repeat the process with other similar situations they encounter to support and honor them in their growth as learners, teachers, and leaders.

For the most part, almost every dilemma you will encounter as a classroom teacher or a school or district leader will have a solution, it just doesn't have to be you who comes up with it.
As I read that, I thought about how nervous I was when I came over from Hepburn last year. For a while I felt that, as principal, I had to solve every problem that came my way. Thanks to everyone on staff, I quickly learned that we are much smarter than me. I'd invite you to pause for a moment and think about the team you work with. It could be your students, or your colleagues, but ask yourself, how are you working together to solve problems?
Here's what lies ahead this week:
Monday:
9:00 ~ covering Amy's class
11:00 ~ team meeting regarding new student
Classroom visits: what questions are the kids wrestling with?
Staff meeting
Tuesday:
Bruce & Jesse away at ALT (part of the learning focus will be on our data from the OurSCHOOL survey)
Wednesday:
Classroom visits: what questions are the kids wrestling with?
Thursday:
Jesse away (Following Their Voices PD)
Locker clean up (schedule to be developed Monday/Tuesday)
Classroom visits: what questions are the kids wrestling with?
Friday:
Trips:

1 – 3 (Saskatoon for bowling, then back to school for winter carnival style games)
4 – 12 (skiing at Table Mountain)
As always, create a great week!
371 total views, 1 views today