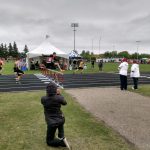 "You go, I've got it. Things will be fine here." These were the words that met me Friday morning as I arrived at the school. Jesse knew I was planning on heading up to Prince Albert to watch our provincial track athletes, however due to circumstances, I felt I should stay at the school. He reassured me he had already arranged the day, and felt that it was important that I go and cheer on our students in their events. So, I hopped back in my vehicle, pointed it north, and up to PA I went, ready to cheer on our kids in what I was anticipating would be a cold, rainy, and windy day. I am so glad I was able to watch a few races, the kids were amazing, and it will be fun to add some new names to our provincial track banners!
This weekend was a good reminder of the importance of rituals, and working together, as the kids and I had a lot going on. Krista was busy volunteering with the Girl Guides at Buster Days on Saturday, and working at the hospital on Sunday. This meant I was in charge of the kids, and as I said, we were busy, busy, busy. On Saturday morning we once again took part in what has become an important ritual to my son, Bobby, as we attended the annual Buster Days pancake breakfast. Every year we do this, and every year I am amazed at how important this is to him. After all, it's not like this is a gourmet breakfast, it's mass produced pancakes and sausage served with weak lemonade and lukewarm coffee.
Whatever it is, it's a ritual, and it is important to him, therefor it's important to me. After the breakfast we returned home, and given that the weather wasn't the greatest, we decided to get to some crafts the kids had been waiting to work on. Eva, Charlie, and Maggie had bought some wooden bird houses at Michaels earlier this year, and have been waiting and waiting to get the chance to paint them. Eva painted away, inviting me to add my design to her house, while Charlie and Maggie were busy slopping on gobs of color here and there. It was a great time, and in the end the houses ended up looking pretty cute, maybe even inviting enough for a bird or two!
When you think about the important rituals and teamwork that happen at our school, what is it that comes to mind? Is it the annual celebration of excellence that you think of? Is it the difficult process of saying goodbye to your class? Is it the process of preparing final progress reports? Maybe it's the opportunity to share all the great things about your kids during our transition meetings. What ever it is, I truly hope that one of the rituals you take time for is reflection. Too often, we get caught up in the hectic nature of June as we try to get everyone across the finish line in one piece. I'd invite you to take a bit of time to think about everything you've accomplished this year. Celebrate the great work you have done, and think back to your presentation, and how proud you were to share what you were working on. I'd also invite you to think about how you have brought My Prairie Spirit Classroom to life in our school this year. As I walk the halls and visit classrooms, I'm amazed at how effortless you all make it look, and I'm enthused by the constant desire to get better and better. Finally, as you reflect, think about how you want to grow as a professional, and think about what it could look like next year after you have successfully accomplished your goal(s).
With four weeks to go, there is a lot of work yet to be done, here's what lies ahead for next week:
Monday:
K – 6 swimming, day 1
Bruce away (pm ~ medical)
Tuesday:
1 – 3 Reading Data due
Classroom visits: how do the kids feel they have grown this year? What evidence can they point to?
Wednesday:
WHRS 4-6 track and field in Duck Lake (Jesse, Dwayne, Leah attending)
Bruce away (pm ~ classroom environment meeting)
Thursday:
K – 6 swimming, day 2
Classroom visits: how do the kids feel they have grown this year? What evidence can they point to?
Friday:
Classroom visits: how do the kids feel they have grown this year? What evidence can they point to?
As always, create a great week!
378 total views, 1 views today