It feels like Mother Nature is trying. Trying to bring back sunny skies and warmer weather. We can hope that the weeks ahead bring normal to above normal temperatures as our farming families continue to work on bringing in the crops. I'm hoping for warmer weather for our athletes that are playing outdoor sports this fall, like our cross country runners or our soccer players. And finally, I'm hoping for warmer weather for those little ones who will be ringing our doorbells in 17 nights, as kids and parents venture out for Halloween night.
Last week was a bit of a rough one as I felt pulled in many directions, all the while, suffering from my annual autumn cold. I've learned over the years that there are somethings I can always come to count on in September and October, including back to school nightmares (still have 'em) and a cold or two. When a person is feeling under the weather or feeling overwhelmed, it is easy to get caught up in a negative spiral. This may include things like negative talk, feelings of frustration, a quick temper, or failing to see all the good around us. I felt myself heading that way this week, until a conversation helped me refocus.
I had a chance to talk to Corinne about the PD she was a part of on Friday, 5th. For some reason I was expecting her to say it wasn't a great use of her time, or that she could have gotten more work done at school. I'm not sure why I expected that, Corinne has never uttered a negative word about division led PD, rather, she has always been a strong believer in the learning that happens when adults get together. I think it was my mindset that caused me to anticipate a different answer. I was in a low place. What she did say was exactly what I needed to hear. She said, "it was amazing! The lady talked to us about focusing on the 90%". After some discussion, Corinne explained about the importance of focusing on the positive people and positive things around us. She said when you really stop and look you see that for the most part, things are really good around us. It's our choice where we place our focus.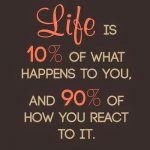 Just the nudge I needed. I left the office and went to look for the 90%, and it was easy to find in our building. Kids having a ball in the gym, students working in the hallways on their independent studies, classrooms buzzing with engaged kids, teachers creating opportunities for kids to celebrate their heritage, teachers creating Reader's Cafes, SERTs celebrating evidence of growth, students starting work experience programs, caretakers spending time in classrooms listening to kids, and Porter, of course Porter! If I'm ever wallowing in the depths of the 10%, I know where I need to go, and that's back into your rooms and into our hallways.
It also makes me think about the choices we get to make everyday in our classrooms and in our interactions with our students. As our parent/teacher conferences approach, what are you planning to focus on? The 90% or the 10%? How will your students and their parents feel about learning at #WaldheimSchool? That's not to say that we never share information that parents may be uncomfortable with (although I know that has already been communicated by you). We get to decide how we do this, we get to choose if it's the 90% or the 10% we focus on. It's about our mindset.
Here's what is on the horizon this week:
Monday:
Tuesday:
Wednesday:
Bruce away (am)
P/T conferences night 1 (supper will be provided)
Thursday:
P/T conferences (supper will be provided)
Friday:
As always, create a great week!
512 total views, 1 views today