Floating in the cold, northern waters, I struggled to keep myself upright. My life jacket kept my head above the water allowing me to focus on the challenge that awaited me. Ski tips up, rope between the skis, knees bent, grip secure. Dad waited patiently, watching me over his right shoulder, the smoke from his ever present cigarette circled up and around the brim of his navy Detroit Tigers baseball cap. With a deep breath I bellowed the two words I knew I would have to shout, "hit it!"
The motor roared and the boat reared up like a bull leaving the chute. The rope snapped taut causing me to lurch forward, I thought my arms would be pulled from their sockets. The boat pulled me against the water, and as I began to pick up speed it became obvious this was not going to work out well. Falling forward my skis fell off and I was being pulled through the water head first. "Two words" I thought to myself, "dad said remember these two words". As the green waters of Waskesiu lake began to fill my mouth, nostril, and eyes the two words popped into my head. Let go!
Sputtering, coughing, and searching for my skis, I watched as dad came back around in a large, slow circle. Leaning over the side of the boat, with a smile I'll never forget, he simply said, "you forgot to let go". As we laughed, I prepared myself for my next attempt. The cycle continued. I'd yell, "hit it", dad would open the throttle, and I would struggle to get myself up and out of the water. It only took a few attempts, but eventually I was being pulled behind the boat, feeling like the king of the world. Knees shaking, arms aching, I was doing it. I was water skiing! I felt like nothing could stop me, I felt like I could do this forever. That was until we encountered the wake created by another boat. With knees buckling and arms flailing, I went down in a glorious crash, causing water to fly everywhere. It was incredible, and I couldn't wait to do it again!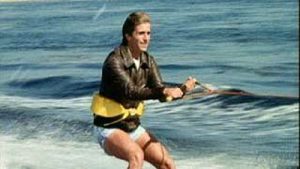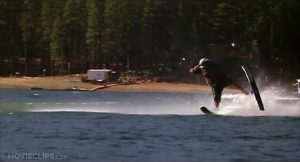 As I have been reading Softening the Edges, with a particular focus on self assessment, these memories of first learning how to water ski came flooding back. My dad had supplied me with all the tools I needed, from the boat to the skis to life jacket to the rope, everything was in place. He had asked my uncle Jim (an avid water skier at the time) to share some words of advice with me. In the end, learning how to water ski came down to me and me alone. I was the one that had to live the experience, making quick adjustments in my grip and stance on the fly. I had to signal to my dad to speed up or slow down and I had to have the ability to predict and prepare myself for hazards that were coming my way. Eventually through a lot of practice which involved multiple spills, I developed into a pretty good water skier, even learning how to navigate a slalom course on one ski. I thought I was pretty good, until my friend convinced me to try ski jumping. Then it was back to step one….hit it had a whole new meaning!
Every day we are asking our students to engage in learning. Every class, at some point we want them to say to themselves, "hit it!" and let the learning begin. Writing about self assessment, Katie White (@KatieWhite426) helps us reflect on the importance of a safe environment where students are free to be vulnerable. She reminds us, "(w)hen students leverage an understanding of themselves, they can strive to achieve their personal and academic goals through purposeful actions designed to lead to a desired outcome" (p. 112). It caused me to reflect on how we are creating these environments. I thought about the discussion circles I frequently see in June, Cara, Sharlene, Shantel, Bobby Jo, and Brittney's rooms. While sitting together on the carpet in a circle seems to suit students in K to 4, would it also be a powerful practice in grade 10, 11, and 12? I've seen Jesse do this with his grade 11 & 12 students in his History classes. Ask him about the impact it can have. If we believe that we are here to serve every student on their learning journey, what intentional moves are we making to create the safe environment these students need to take the risks associated with self assessment?
Katie also writes, "(t)o honor the whole person and soften the edges of assessment, we must invite students into the learning cycle. This includes daily reflection alongside teachers" (p. 113). As I read this I immediately thought about the way we view everything we do through MPSC and the importance of #side-by-side learning. However I also thought about my dad's words, "you forgot to let go". As I reflect on my time teaching I recall being guilty of either giving too much or too little feedback, and in the end not giving the students what they really needed in the moment. This week, as you are presented with opportunities to walk alongside your learners during their moments of self assessment, how will you ensure you are in the Goldilocks zone of support, not too much and not too little? After all, we can provide the equipment, but in the end it is our learners who need to develop those skills needed to survive the waves that will inevitably come their way.
Here's what is on the horizon this week:
Monday
K – 4 staff meeting (Monday, Dec. 3, 2018)
Self assessment discussion with students during class visits
Tuesday
Bruce away (pm) for a classroom environment planning meeting
Self assessment discussion with students during class visits
Wednesday
Self assessment discussion with students during class visits
Thursday
EA meeting
Self assessment discussion with students during class visits
Friday
Self assessment discussion with students during class visits
As always, create a great week!
2,173 total views, 1 views today