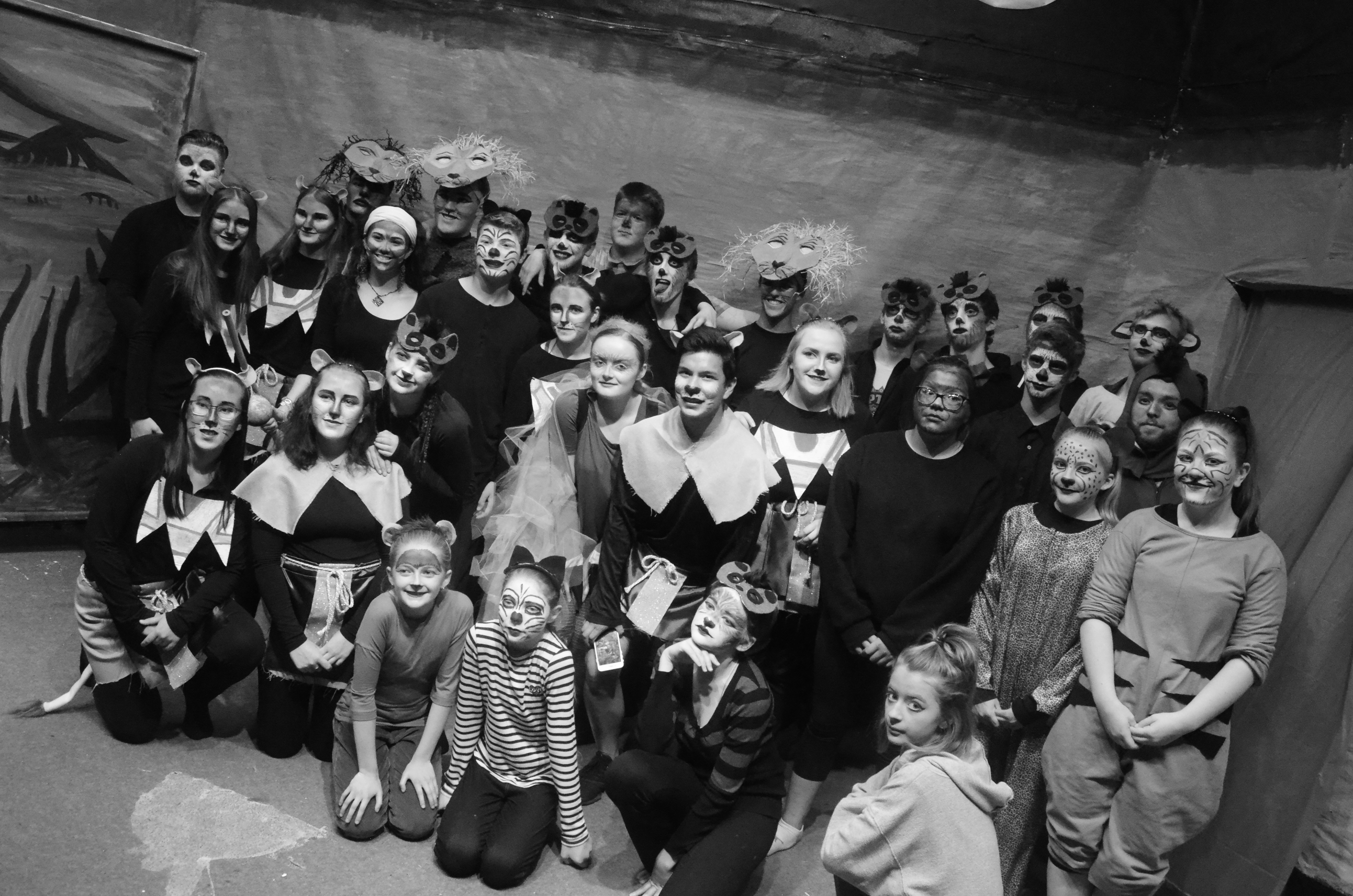 As the curtain closed the cheers echoed off the gymnasium walls as the audience signaled their appreciation for the show they had just experienced. For close to two hours, children and adults alike were captured by the performance of the Waldheim School drama club. This diverse collection of young thespians performed their version of The Lion King, and those in attendance loved it! The singing, the acting, the lighting, the make-up, the costumes, the set, the choreography, all coming together to create a magical moment.
The following morning students began to slowly make their way into the school for another day of learning, however this day was not typical for some. A grade ten boy who played an important role in the performance the night before approached the gym doors. I watched him as he slowly opened them. He must have known what he was going to see, but it seemed as though he secretly was hoping it would not be true. He turned away with a forlorn look on his face, and when our eyes met, he said, "I can't believe it's done!" This young man who lives and dies with the fate of his favorite NBA team had always had just one dream, to play basketball. This year, he reluctantly signed up for the drama production, and found a new passion, the arts. A student who is usually just on time for period one was one of the first students on campus this day. His friends began to file in and they started to reflect on the night before. Talk began to turn to the future, and to what they would tackle next year. They were planning while the feeling was fresh. They were imagining opportunities before the final decorations were even removed from the walls. They had just delivered their greatest performance and were already contemplating possibilities.
It reminds me of the feeling we have as leaders of learning this time of year. As students are marking X's on their calendars, we are imagining opportunities. For some of us, change is in the air. Sharlene and Andrea will be sharing a class, as will Jade and Brenda. Laura and Robynn will be joining our family, while Dwayne will be enjoying a Pepsi while wondering how Alaina is doing. Bobby-Jo and Katharine will be taking on more leadership as they jump into the LF role, while Steve and Shantel will continue serve as mentors to them. Mitchell and Katie are off to new schools where they will undoubtedly continue to grow as amazing teachers. For the rest of us the change is not as significant, but just as exciting. New students, new rooms, new assignments, and new curricula will certainly keep us sharp as we look towards the new school year with our keen #2020Vision.
Just as the students are already discussing next year's performance, we too are thinking about next year. We have been invited to think about how our professional learning goals align with the division's Strategic Planning Framework. When you think about what you want to work on for next year I'd invite you to think in a way similar to how the young actors are thinking:
What play would the audience love to watch?
Notice how this is different than thinking, what play would I love to perform? In the same way if we think about our professional goal(s) as a means to serving our students we will be more likely to have a greater impact on their learning. So, where does your goal live? How does your work empower your students while supporting the division's Strategic Planning Framework?
It is often said that great teaching is a mix of the art and science of the profession, and some days we may feel like actors on a stage, and while we do need to think on the spot, it can't always be improvisation. Great teaching, which leads to deep learning is scripted. It's rehearsed. It's delivered. It's refined. In the end, while there may not be a standing ovation, we hope it has an impact on our audience. With three weeks left we are now into the final scenes of this play, enjoy the rest of the performance as you deliver your denouement.
Here is what is on the horizon this week:
Monday:
Gr. 5 Clip & Climb trip
Gr. 6 Camping Trip
Student celebration ceremony discussion
Tuesday:
Jr. Girls Soccer Playoffs (Mitchell taking team to Stobart)
Jesse & Bruce at ALT (Steve is acting admin)
Elementary school swimming in Martensville
Wednesday:
Annual ball tournament (teachers, bring your glove and clothes for the teacher/student ball game)
Thursday:
Grade 10 Wanuskewin/U of S trip
Friday:
Elementary swimming
Grade 1 & 1/2 Wanuskewin Trip
As always, create a great week!
301 total views, 1 views today