May 29 – June 2
Posted On May 28, 2017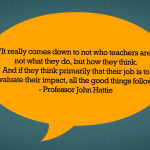 What an incredible week of learning! Last week I was so fortunate to have the opportunity to learn in so many exciting and unique ways, starting last Tuesday at our school track and field meet. A person's first year at a school is always full of new events and traditions, and I was excited to see how our elementary track and field day worked. I was so impressed with the incredible leadership shown by the teachers, students, and parent volunteers. There were so many smiling faces on a day that can be fraught with tears if it is not set up properly, and sometimes even the students cry! Wednesday and Thursday were a great opportunity for David and I to get some dedicated learning time together at the CAP2017 conference.  The opening speaker, Anthony Muhammad, spoke passionately about the importance of school culture and the impact the teachers have on student learning. He spoke at length about John Hattie's Visible Learning study, and shared some of the key things we can do to help our students grow. Some things that really stood out from this information was the impact that collective teacher efficacy has on student learning, along with how a teacher predicts a student will do prior to entering the course. I'd invite you to consider the following two questions:
how important do you feel you are in the lives of your students (do you believe you are an agent for change)?
do you have predetermined beliefs about how well your students will do before your course even begins or is in it's beginning stages?
As a staff, I'd like to explore Hattie's work together on a deeper level. There was a lot more great learning that occurred over the two days that I'd love to share with you over the next few weeks, so keep looking for that in upcoming On the Horizons.
On Saturday Bobby (10) and Eva (6) performed in their annual piano recital in Saskatoon. There were over 25 students playing a variety of pieces, from the very basic, to the very complex. What stood out to me the most was the feeling of pride each and every pupil displayed as they played for us. There was no comparing student A to student B, it was simply a showcase to celebrate their hard work and (sometimes) daily practice. Two highlights for me, besides the obvious pride I felt when my kids played, were the performances by the teachers and the quote on the program. First, the teachers. All three of them played for us, and all three of them played pieces that were just a touch beyond their current skill level, which was evident as all three of them had one or two tiny miscues. To me this showed a belief that there is always room for growth and that the teacher is and should be just a passionate about their chosen pursuit as their pupils are. Second, the quote.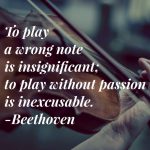 This quote sums up what it is we should all be striving for everyday.  School should not be about perfection, but rather the passion that should live in the learning journey. Ask yourself this, are you more concerned with the journey or the destination?
Here is what lies ahead this week:
Monday:
Bruce, David, Trace, June, and Brenda presenting our Learning for Life story at division office (9:00 – 2:00)
Book fair set up (any help after school would be greatly appreciated)
Tuesday:
Wednesday:
Literacy day, hot dog lunch!
Thursday:
Staff meeting (am) ~ focus: student awards, ROA's, forward planning (elem)
Final day of the book fair
Friday:
Jon Yellowlees visit (9:00 – 10:30)
613 total views, 1 views today