October 23rd – 27th
Posted On October 22, 2017
What a "dog's nose" of a weekend….cold and wet! Yuck! Oh well, it gave the little ones a chance to do some crafts with grandma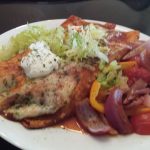 today, always a favorite pastime of theirs. So it was Lego, stickers, old boxes, single socks, markers, scissors, crayons, glue, and their imaginations. As I watched them I'm was not sure who was enjoying the activities more, my kids or my mom, all I know is that it's quite a fun stage of life to be in. It was also a good weekend to experiment with some comfort food as we had some pulled pork enchiladas on Saturday night, they were really good!
I came across a really good blog post by Pernille Ripp (@pernilleripp) today, and while it speaks about the impact we have on our students' love (or hatred) for reading, I think it can be applied to many more things. In her blog post she says, 
In some schools I see AR points, pages read, or books read used as a way to separate those who can and do read from those who can't or won't.  I see scores set by others determine how a child's experience will be with reading in the future.
I see arbitrary measures shared with home as if the points from AR or another computerized test will truly tell the story of that child's reading identity.
And I see punishment.  Privileges removed from the child who fails to meet their goal.  Reading rules implemented that instead of eliciting more positive reading experiences, completely undermine the entire experience.  And the kids stand idly by while we destroy their love of reading.
It is an interesting commentary, saying that we are trying to punish our students into becoming readers, or with other subjects, learners. And I wondered, is that what we are trying to do? Or are we trying to punish our students into becoming compliant, simply doing what we ask because we have asked it? Either way, is that what we want to be? A school that punishes our students  into compliance disguised as "learning". As I walk the halls and visit the classrooms, I certainly do not think that's who we are. I think we are at a point as adult learners that we have realized we cannot simply punish our students into becoming learners. I see amazing things like:
students creating metal bowls that look like they should be in an art gallery
students creating amazing puppets that showcase their own unique sense of design
students working together to create dialogues for brief skits
students working side-by-side to come to know the Pythagorean theorem
students discussing ethnocentrism in kids books
students using string and sidewalk chalk to learn about the unit circle
students organizing and running popcorn sales and video game tournaments
students modeling what they can do when they are functioning in their green zone
students analyzing biomes and then teaching other students
students critically analyzing a piece of literature and applying it to their own lives today
Are we reaching all students? I'd love to hear your thoughts on how we are doing and/or on Pernille's post.
Here's what lies ahead for a busy week:
Monday:
Staff meeting at 3:15 (please refer to agenda e-mailed last week)
Tuesday:
Bruce at ALT all day
Bruce at Classroom Environment Committee mtg (4:30 – 6:30)
Wednesday:
Bruce at ALT all day
P/T Conferences (day 1) ~ supper provided
Thursday:
P/T Conferences (day 2) ~ supper provided
Friday:
Jon Yellowlees coming out to observe 1st/2nd year teachers
Picture retakes
As always, create a great week!
282 total views, 1 views today